We all know that after a system failure, Windows 10 attempts to reboot itself. We have also seen some Blue Screen of Death (BSOD) stop errors, where system restarts automatically when it crashes. For some users, it may be okay that machine recovered itself after the reboot. While in some cases, system condition may get even more worst in successive restarts. This is the case where system has to avoid restart but it can't.

Well, by default, Windows have the policy of keep restarting itself until it is configured for not doing so. So if the system is keep restarting in crashes, users often disconnect it from the power supply. This should be avoided as it may cause critical issues like malfunctioning of hard drive or any other hardware component corruption. Hence, we should configure our system to such that when the crash happens, it avoid automatic reboot. By so, we can make a manual reboot to check if the problem has been resolved or not. If it is resolved, we're good to go. If it is not resolved, we can do crash analysis and take necessary steps to fix it.
If you're new to Windows 10 or computing, here is the step-by-step process to disable automatic restart after failure:
How To Disable Automatic Restart After Failure In Windows 10
NOTE: Disabling automatic restart after failure will let Windows freeze on the error message (like the one shown above) for infinite amount of time. You can reboot manually after reading the error message completely, so that troubleshooting steps can be taken out.
1. Open Settings apps and navigate to Update and security -> Recovery. Then click Restart now button under Advanced startup options.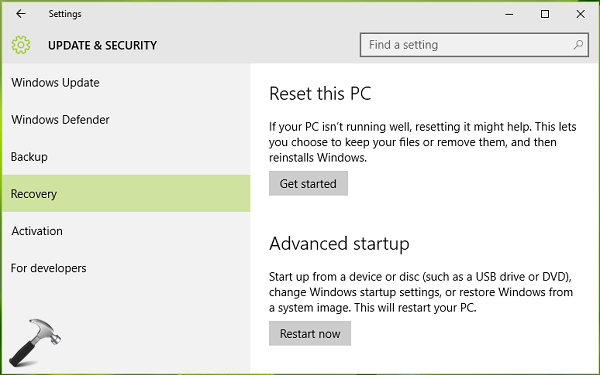 2. Now your system will restart and you'll see following screen, where you've to opt for Troubleshoot option. Click on Advanced options on next screen after this.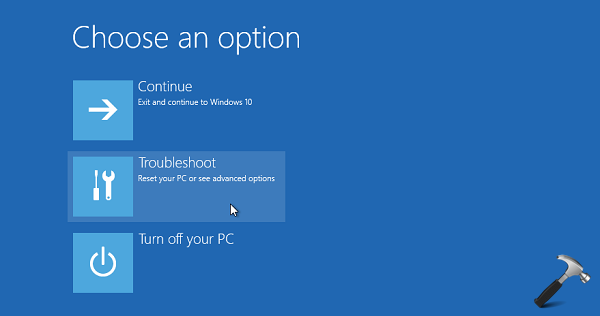 3. Then in the Advanced options screen, choose Startup Settings entry.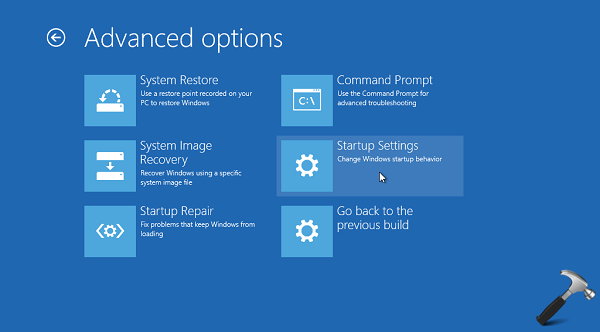 4. Moving on, click Restart button on the next screen: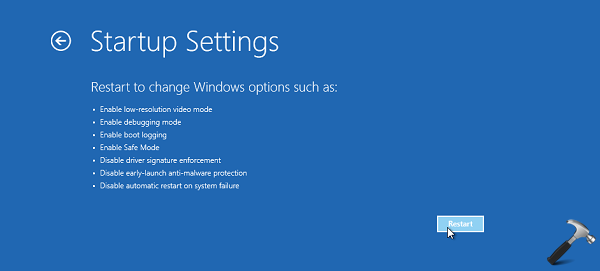 5. Finally, in the Startup Settings screen shown below, press F9 or key 9 to disable automatic restart after failure. Now your PC will restart, making the setting effective.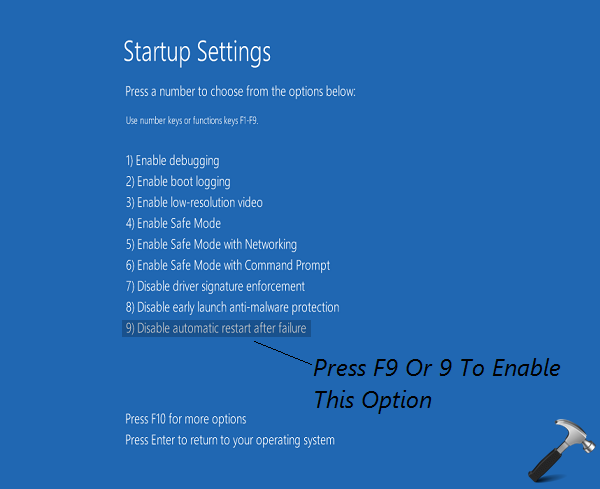 That's it!