Microsoft Edge browser in Windows 10 comes with Cortana integrated. This means you can directly highlight text content on webpages and Ask Cortana about further information. Refer to below screenshot, which shows how you can Cortana in Microsoft Edge.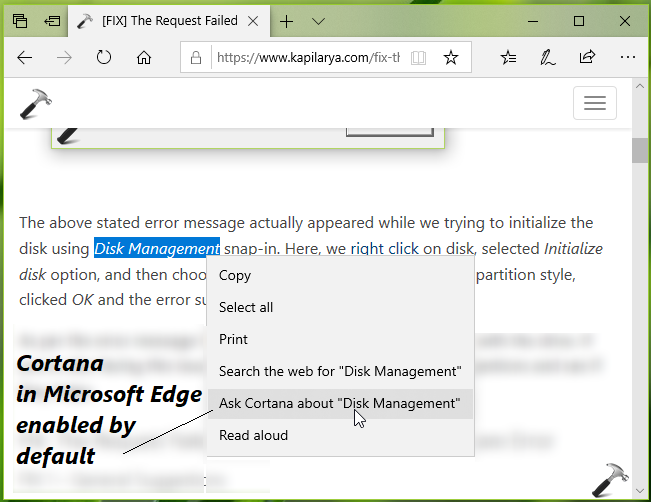 The benefit of above is that you don't need to go Cortana app separately and ask it about the information you want, as you can do the same in your Edge browser. Note that Cortana will be only available, if you've switched to Microsoft account from local account.
Here's how you can enable or disable Cortana in Microsoft Edge, as per your requirement.
How To Enable/Disable Cortana In Microsoft Edge For Windows 10
Method 1 – Via Microsoft Edge Settings
1. Open Microsoft Edge, click on triple dots ( · · · ) at top right corner, and select Settings.
2. Then switch to Advanced section.
3. Under Cortana, turn On or Off the option Have Cortana assist men in Microsoft Edge to enable or disable the Cortana in Microsoft Edge, respectively.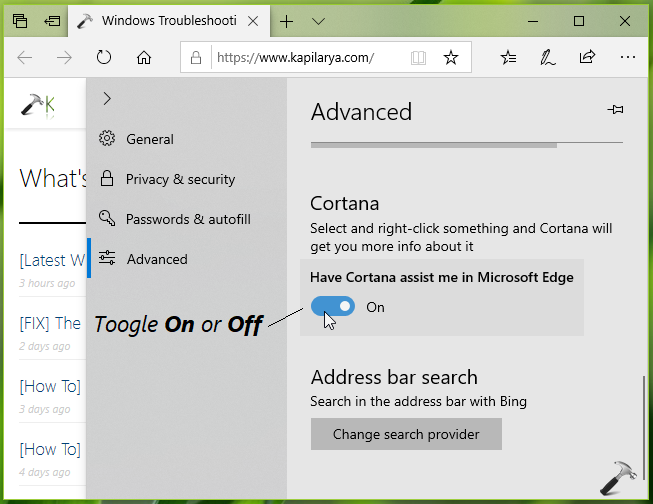 This setting will be saved and immediately applied. You can visit any webpage and select text and right click to confirm this.
We'll now see how to enable/disable Cortana in Microsoft Edge, via registry manipulation.
Method 2 – Via Registry
Registry Disclaimer: The further steps will involve registry manipulation. Making mistakes while manipulating registry could affect your system adversely. So be careful while editing registry entries and create a System Restore point first.
1. Press

+ R and put regedit in Run dialog box to open Registry Editor (if you're not familiar with Registry Editor, then click here). Click OK.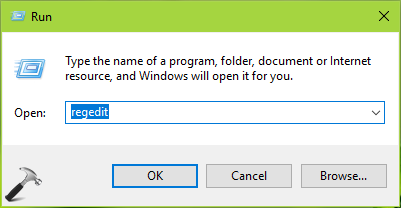 2. In left pane of Registry Editor window, navigate to following registry key:
HKEY_CURRENT_USER\Software\Classes\Local Settings\Software\Microsoft\Windows\CurrentVersion\AppContainer\Storage\microsoft.microsoftedge_8wekyb3d8bbwe\MicrosoftEdge\ServiceUI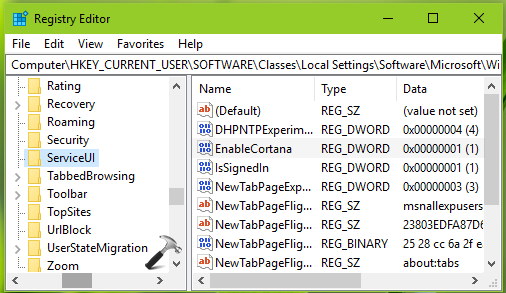 3. In the right pane of ServiceUI registry key, look for registry DWORD (REG_DWORD) named as EnableCortana. This registry DWORD can be used to enable/disable Cortana in Microsoft Edge browser. Double click on this registry DWORD to modify its Value data: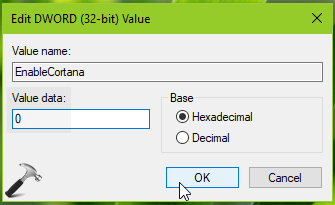 4. Finally, set the Value data to 0 to disable Cortana in Microsoft Edge. Or, you can set this DWORD to 1 to enable Cortana in Microsoft Edge. Click OK and close Registry Editor, reboot to make changes effective.
That's it!