It is well known that Virtual Private Network (VPN) provides more secure connection to Internet and your company's network. If you're related to field, you should be familiar with VPN networks. Even, if you're beginner, you may checkout our guide to setup VPN connection in Windows.
In Windows 10, we've Metered connection feature which is usually used to reduce your Internet bills and limit data wastage in unnecessary operations. When you set your network connection as Metered, certain features won't be working as expected. VPN is one among those features which is affected by Metered connection/network feature. That is why Microsoft has made a provision, so that you can allow VPN or Metered network.
In this article, we'll see how to enable or disable VPN over Metered network.
How To Enable/Disable VPN Over Metered Networks In Windows 10
Method 1 – Via Settings App
1. Right click Start Button or press

+ X keys and select Settings.
2. In the Settings app, navigate to Network & Internet > VPN.
3. Now in right pane of VPN, under Advanced Options, turn On or Off the Allow VPN over metered networks option to enable or disable VPN over Metered connection, respectively.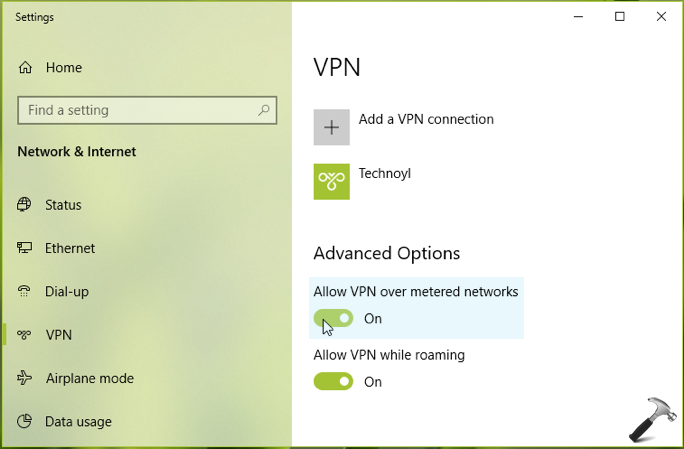 Your setting will be saved and applied immediately, no reboot required.
Method 2 – Via Registry
Registry Disclaimer: The further steps will involve registry manipulation. Making mistakes while manipulating registry could affect your system adversely. So be careful while editing registry entries and create a System Restore point first.
1. Press

+ R and type regedit in Run dialog box to open Registry Editor (if you're not familiar with Registry Editor, then click here). Click OK.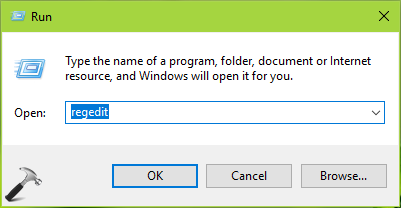 2. In left pane of Registry Editor window, navigate to following registry key:
HKEY_LOCAL_MACHINE\SYSTEM\CurrentControlSet\Services\RasMan\Parameters\Config\VpnCostedNetworkSettings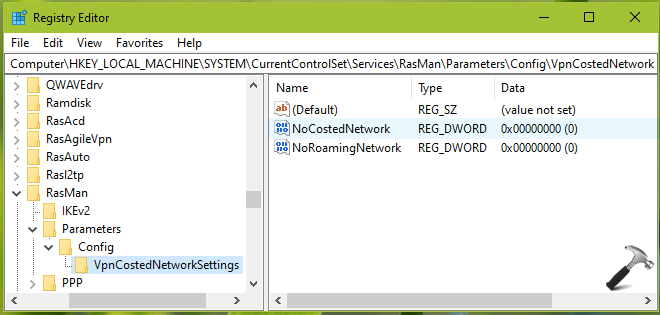 3. Now in the right pane of VpnCostedNetworkSettings registry key, look for the registry DWORD named NoCostedNetwork. Make sure this DWORD is set to 0, to allow VPN over Metered networks. If the DWORD doesn't exists by default, you can right click in blank space and select New > DWORD Value. Name it as NoCostedNetwork and let the value set to 0. If you want to disable VPN over Metered connection, set it to 1. Close Registry Editor and reboot to make changes effective.
So this is how you can allow/prevent VPN over metered networks in Windows 10.
Hope you find it useful!