We all know that Microsoft is testing Windows 10 among users by providing newer build with latest updates. By downloading these new builds, you'll find a new feature and more improvements in a fresh copy as compared to earlier one. If you're totally new regarding Windows 10, you can download the latest build from the PC Settings app. Open it and in the left pane select Update and recovery -> Preview builds. Then click on Check now in the right pane and should be able to get new build following this way. However, today when I tried to download a new preview build, it showed me following error:
Failed to download the new preview build, please try again later. 0x80246018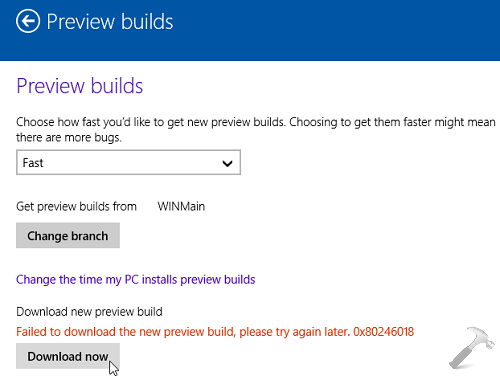 There are various error codes you may receive with this error message. Due to this, I was not able to get newer build at all. I tried rebooting the machine, changing network and regional settings of the system, but unfortunately, nothing worked. Then by doing some web research, I concluded that this might happen because the server that is delivering the new build, is over capacity. So I re-tried after a day to get new preview copy, but there were no changes in the situation. Then making following registry manipulation helped me to fix this issue significantly:
FIX : "Failed To Download New Preview Build" Error In Windows 10
Registry Disclaimer: The further steps will involve registry manipulation. Making mistakes while manipulating registry could affect your system adversely. So be careful while editing registry entries and create a System Restore point first.
1. Press

+ R and put regedit in Run dialog box to open Registry Editor (if you're not familiar with Registry Editor, then click here). Click OK.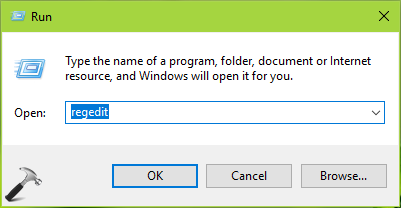 2. In the left pane of Registry Editor window, navigate here:
HKEY_LOCAL_MACHINE\SOFTWARE\Microsoft\WindowsSelfHost\Applicability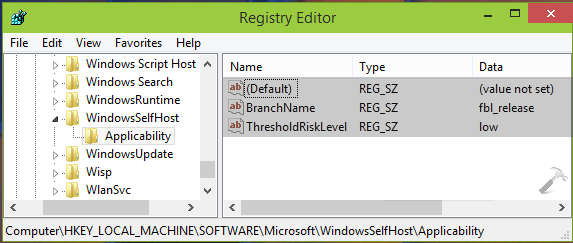 3. In the right pane of Applicability key, make sure that only following details exist:
(Default)  –  REG_SZ  –   (value not set)
BranchName  –  REG_SZ   –  fbl_release
ThresholdRiskLevel  –  REG_SZ  –  low
Delete all the registry strings expect the ones mentioned above. Once you're done, close the Registry Editor and reboot the machine.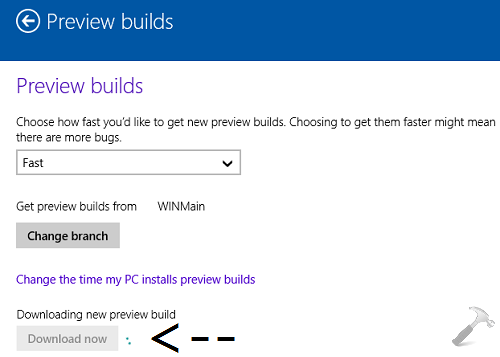 4. You can now re-try to download the newer build, and this time you won't face any error.
That's it!