In Windows operating system, there are many crucial processes running in background. But some of these process are special ones about which you should know. Runtime Broker is one of those special process about which we'll be talking in this article.
FAQ: What Is Runtime Broker In Windows 10?
So the Runtime Broker (RuntimeBroker.exe) process was introduced to Windows family with Windows 8 and is continuously part of Windows 10 till latest version (V1909), as of this writing. It is core process for Windows 10/8.1/8 operating system by Microsoft. It is configured to start with Windows and once you start your system, you can spot the process in Task Manager. The main purpose of Runtime Broker is to manage permissions for UWP apps aka apps from Microsoft Store. When you launch an UWP or Microsoft Store app, you'll may see a rise in CPU, memory usage for Runtime Broker process.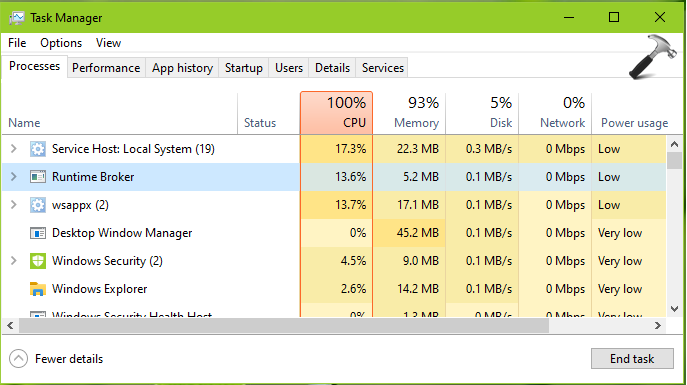 When you right click on sub-process for Runtime Broker and select Go to details or directly visit Details tab, you'll see find that Runtime Broker may have multiple instances. The process file can be located at C:\Windows\System32\RuntimeBroker.exe, assuming Windows is installed on C: drive. Users are recommend not to modify any files related to this process, otherwise it may break working of apps on their system.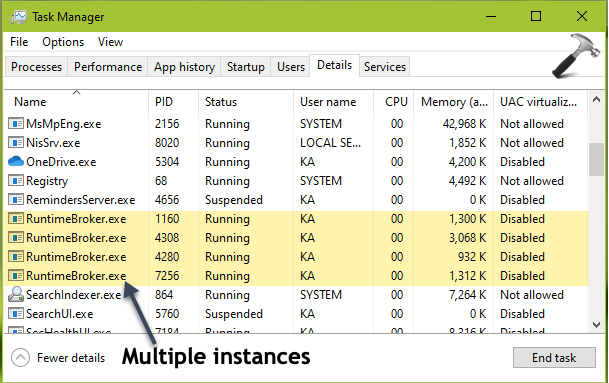 Fixing High Memory Usage By Runtime Broker Process
Ideally, the Runtime Broker is designed to use less than 15% of memory. But if you see the process is consuming more memory beyond this limit, you need to fix this. Simply right click on the Runtime Broker and click End task. Following that, you should restart your machine and check if issue persists. A restart should hopefully correct it, but if it doesn't, perform clean boot and run System File Checker scan.
See this fix, if you got The group or resource is not in the correct state to perform the requested operation message with Runtime Broker.
Hope you find above information useful!
Also read: What is Windows Shell Experience Host in Windows 10?