Back in 2009, Microsoft launched Windows 7 which is no doubt one of their most successful operating systems. At present, Windows 7 has quite impressive market share, even in the presence of Windows 10. But as all good things must come to an end, same applies Windows 7. Microsoft is ending Windows 7 extended support on January 14, 2020. Note that Microsoft ended Windows 7 mainstream support back in year 2015, see this support article for more details.
As end of support is reaching for Windows 7, we've seen high drop in Windows 7 market share in previous year. The below shown screenshot from "statcounter" illustrates this. In October 2018, the Windows 7 share was around 35% which dropped to below 28% in October 2019, exactly a year after. The Windows 7 market share will obviously drop in upcoming months, as the end of support is reaching.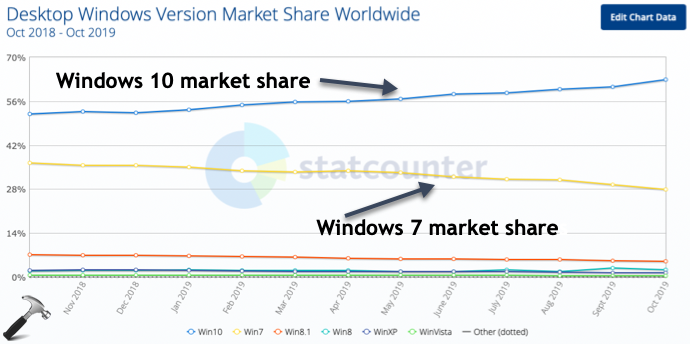 This market share graphic clearly shows that customers are now moving to Windows 10, which is the only saviour option, instead of continuing with Windows 7. Windows 10 market share has impressively grown this year and is supposed to keep growing next year as well. If you're still on Windows 7, below mentioned information might be helpful for you.
Everything You Need To Know About Windows 7 End Of Support
Windows 7 Support Will Be Ended On January 14, 2020
If you're on Windows 7, you probably have received Support for Windows 7 is coming to an end notification. It must be appearing after you've installed KB4493132 or KB4524752. The frequency of this notification may increase as we reach end of support.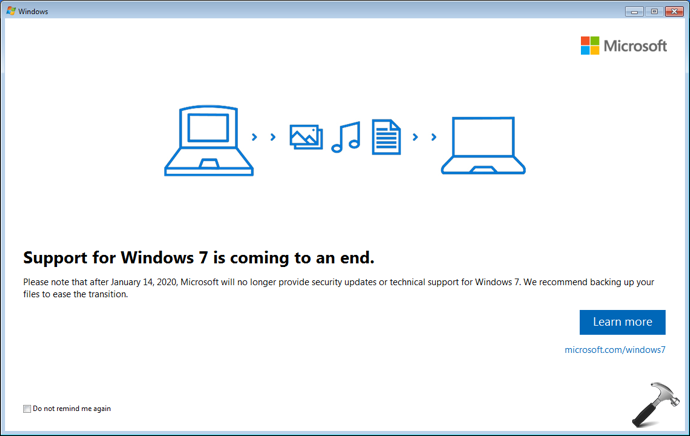 The notification indicates following things:
1. There will be no new security updates provided on your Windows 7 after January 14, 2020. Windows Updates install latest definitions that will keep your system safe and secure. In absence of latest Windows Updates, your system will be vulnerable to security attacks.
2. Microsoft will no longer provide technical support for systems running Windows 7. You've to bear all the risk, if you continue with Windows 7 after January 14, 2020.
3. You must upgrade to a newer Windows operating system such as Windows 10 before the end of support reached. Microsoft is actively developing Windows 10 and with Semi-Annual channel model, there are two feature updates provided per year. Additionally, instead of operating system, Microsoft considers Windows 10 as a service. This means Windows will get better with periodic updates.
What You Need To Do?
If you're on Windows 7, you need to upgrade to Windows 10 before January 14, 2020. First of all backup your important data using Back and Restore tool in Control Panel. Then simply download Windows 10 ISO file and perform an upgrade using the ISO file. If you like, you can also make clean install of Windows 10. As the Windows 10 free upgrade offer already expired in year 2016, you may need to buy new Windows 10 license. If your system is part of organization, please refer to your IT administrator and ask them for Windows 10 deployment using this step-by-step guide.
For any additional queries on Windows 7 end of support, refer to this Microsoft support article.
That's it!