With Windows 10 Version 1607 or later, Microsoft introduced Windows Update Delivery Optimization feature. It helps you to get updates smoothly on multiple PCs owned by you. We've already shared you following article to setup Delivery Optimization as per you needs:
How to configure Windows Update Delivery Optimization in Windows 10
As you might know that I am active in Microsoft forums, recently someone asked me how to turn off Delivery Optimization completely, if your environment is not suitable for it. If you read above linked article, you'll see that Delivery Optimization can turned off using registry. However, the forum user already tried that registry manipulation but it was not successful.
Additionally, he tried to disable Delivery Optimization service (DoSvc) in Services snap-in. But as soon as Startup type is selected as Disabled, the changes won't be saved because of Access is denied error. Disabling the service from Command Prompt also provides same response.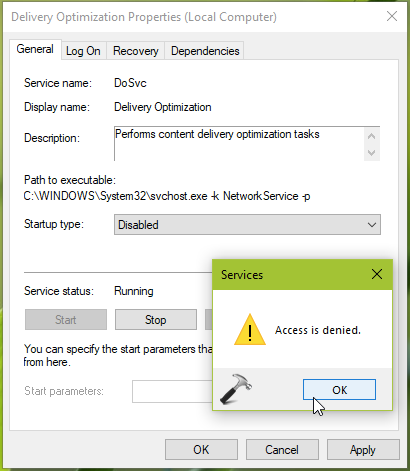 So how to disable the Delivery Optimization in such condition. Well, I provided following registry based solution and it worked for him successfully. Here's how you can disable Delivery Optimization feature, if required.
FIX: Delivery Optimization Won't Turn Off In Windows 10
Registry Disclaimer: The further steps will involve registry manipulation. Making mistakes while manipulating registry could affect your system adversely. So be careful while editing registry entries and create a System Restore point first.
1. Press

+ R and type regedit in Run dialog box to open Registry Editor (if you're not familiar with Registry Editor, then click here). Click OK.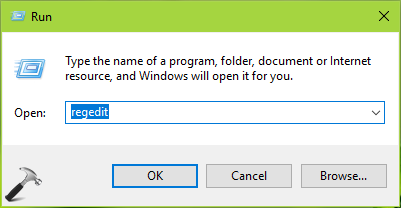 2. In left pane of Registry Editor window, navigate to following registry key:
HKEY_LOCAL_MACHINE\SYSTEM\CurrentControlSet\Services\DoSvc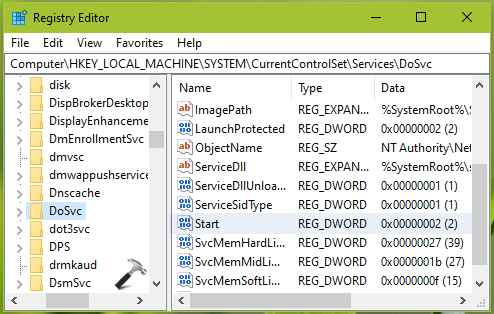 3. In right pane of DoSvc registry key, double click on Start registry DWORD (REG_DWORD) to modify its Value data.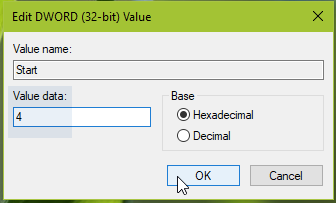 4. Set the Value data to 4 to disable Delivery Optimization service. Click OK. Close Registry Editor and reboot to make changes effective.
After restarting your system, you'll find that Delivery Optimization service is turned off now.
Checkout this video for illustration:
That's it!