Modern Apps are the heart of Windows 8/8.1 and we all knows this. So if these apps didn't work properly, you'll probably feel that Microsoft has robbed you. But that is not exactly the matter; variations in the handling of this operating system yields distinctive results.
Most of users still finds third-party apps better for their system and they do try them; as a results the native settings of the Windows 8 system got tweaked by these apps and user have no idea about this. At last, when he comes to built-in Windows Store; he got an error while downloading, installing or updating apps and feels frustrating.
See : FIX: Windows Apps Troubleshooting In Windows 8/8.1
As a primary solution, he tries to reset the app cache (viz. running WSReset.exe command administratively), since most of Windows 8 troubleshooting sites advocates this and me too, he came around this error: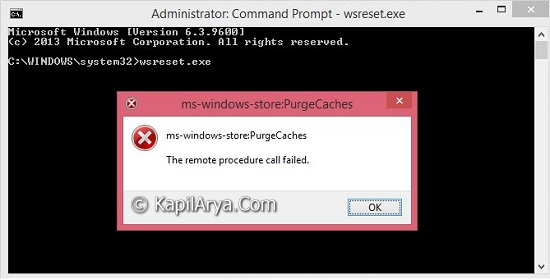 ms-windows-store:PurgeCaches
The remote procedure call failed.
Specifically read: "The Remote Procedure Call Failed" While Setting Lock Screen.
According to the screenshot shown above; it clearly shows that Windows can't simply reset the app cache, but it doesn't tells us more about why it can't? Well, a registry workaround can be done to overcome this issue. It worked for us and we hope it will help you too!
FIX : Error "ms-windows-store:PurgeCaches" In Windows 10/8.1/8
Registry Disclaimer: The further steps will involve registry manipulation. Making mistakes while manipulating registry could affect your system adversely. So be careful while editing registry entries and create a System Restore point first.
1. Press

+ R and put regedit in Run dialog box to open Registry Editor (if you're not familiar with Registry Editor, then click here). Click OK.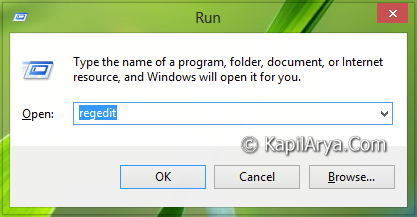 2. Navigate here:
HKEY_CURRENT_USER\Software\Classes\Local Settings\Software\Microsoft\Windows\CurrentVersion\AppModel\Repository\Packages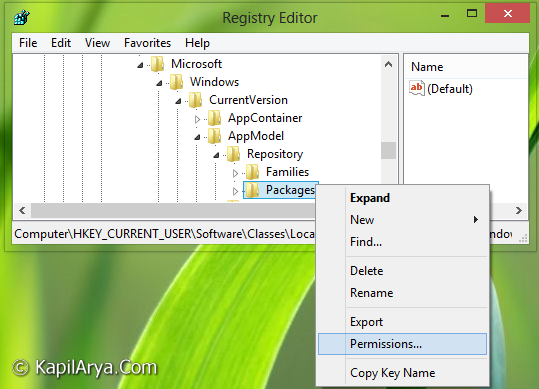 3. In the right pane of this location, right click over the key Packages and select Permissions. Now in the following window, click Advanced.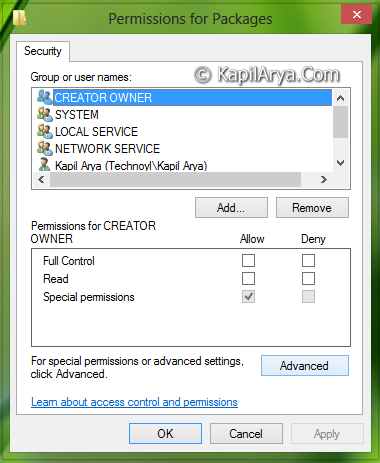 4. Just like this fix, in the following window make sure that Owner is SYSTEM. Now in the bottom of this window, check Replace all child object permission entries with inheritable permission entries from this object option.

See : How to take ownership of registry key and restore it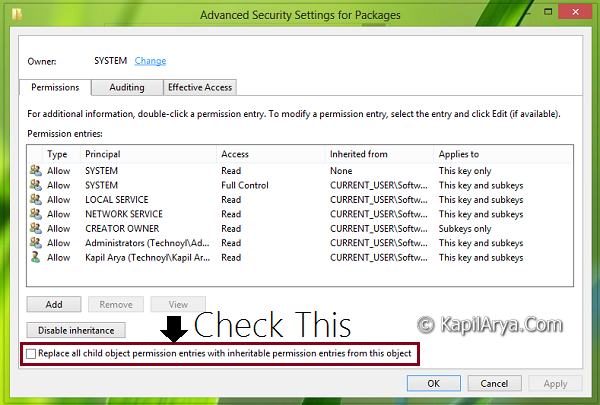 5. Finally click Apply followed by OK in windows for step 3 & 4. You may now close the Registry Editor and reboot the machine to get fixed.
Hope this helps, Good luck! Go here if your downloads are kept pending and never progress in Windows Store.