Event Viewer snap-in in Windows helps you to trace down activities on your system and thus can help you to improve system performance. You can directly open Event Viewer from WinX menu or search for it using Windows Search/Cortana.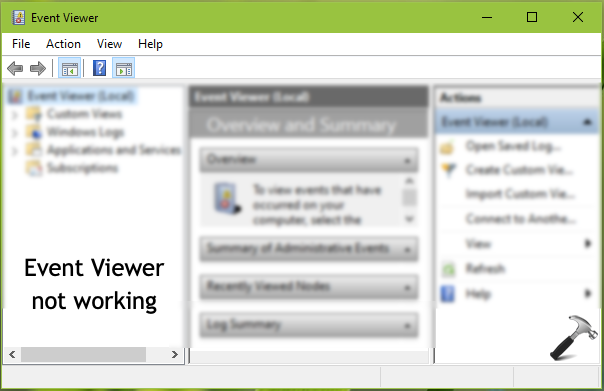 This article talks addresses common issue where Event Viewer snap-in is not working. By not working, we mean either of following points:
Event Viewer not showing all events
Event Viewer not showing new events
Event Viewer not showing custom events
You can't create custom events
If you're facing either of above mentioned symptoms with Event Viewer, it's time to troubleshoot the issue. Here's how:
FIX: Event Viewer Not Working In Windows 10
FIX 1 – General Suggestions
1. Run System File Checker scan or run DISM command-line tool to repair system files corruption.
2. Boot into Safe Mode and check if problem persists there.
3. If issue persists in Safe Mode, try clean boot.
4. Open Services snap-in by running services.msc command. Make sure Windows Event Log service is Running and set to Startup Type as Automatic. Additionally, ensure that Windows Event Collector service is set to Manual Startup Type.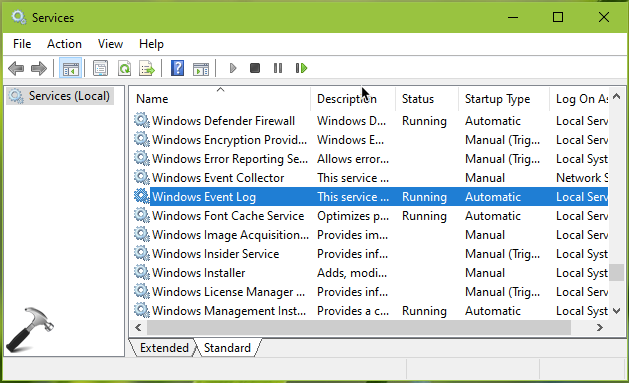 FIX 2 – Using PowerShell
If you're using recently released Windows 10 Version 1903 and then installed KB4503293, the update may break ability to create custom events. As soon as you click Custom Views, you'll receive MMC has detected an error in snap-in and will unload it error. The issue is not only limited to V1903 but also affects other versions of Windows 10 and even Windows 8.1/7. Microsoft is aware of this problem and has acknowledged that issue is due to Windows Updates released on June 11, 2019.
So if you come to this article because you can't create custom events, you can use the PowerShell based workaround provided by Microsoft. The company is currently working on patch and will release it via upcoming Windows Update so that it will be automatically fixed for affected users.
UPDATE (28/06/2019): The issue is resolved with KB4501375 released on June 27, 2019 for Windows 10 Version 1903. If you're on any other operating system, make sure you've installed latest updates.
Drop us a comment, if you're still facing issue with Event Viewer!