Sometimes when you update your apps in Windows, the registry entries of previous version may remain intact. In some cases these registry entries remained intact may create problem for you.
Recently, we came around one such problem in Windows 10. Actually, when we tried to open images having JPG format with the Photos app, we were treated with following error:
Invalid value for registry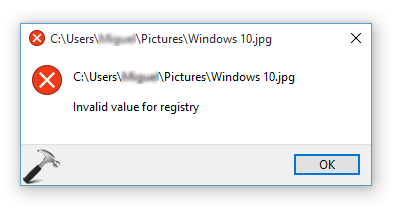 We were keep getting this error for JPG files only but we believe that you may face this issue with other file formats plus other apps as well. After investigating, we concluded that the registry entry of previous version of affected app is causing this problem. Hence if you delete the older version entries, the problem can be solved very easily.
Here is the how-to part:
FIX : Invalid Value For Registry Error In Windows 10
Registry Disclaimer: The further steps will involve registry manipulation. Making mistakes while manipulating registry could affect your system adversely. So be careful while editing registry entries and create a System Restore point first.
1. Press

+ R and put regedit in Run dialog box to open Registry Editor (if you're not familiar with Registry Editor, then click here). Click OK.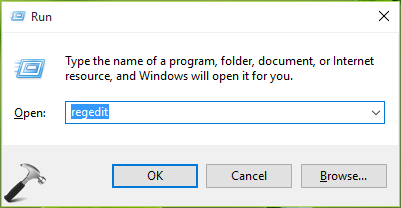 2. In the left pane of Registry Editor, navigate to following registry key:
HKEY_CURRENT_USER\Software\Classes\Local Settings\Software\Microsoft\Windows\CurrentVersion\AppModel\Repository\Families\Microsoft.Windows.Photos_8wekyb3d8bbwe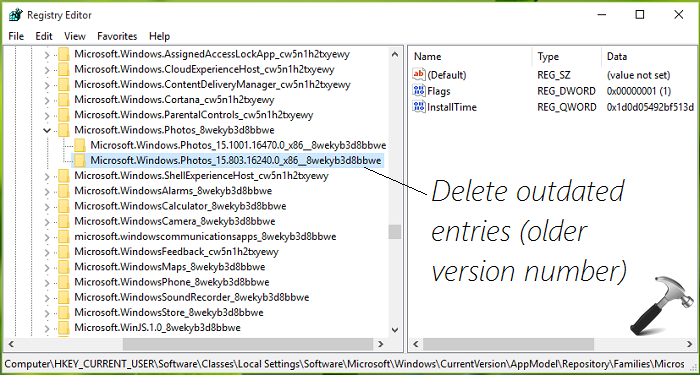 3. At this registry location, you first need to take ownership of Microsoft.Windows.Photos_8wekyb3d8bbwe registry key using RegOwnerShipEx or this manual method. After taking ownership, expand Microsoft.Windows.Photos_8wekyb3d8bbwe key and examine sub-keys next to it. There should 50% outdated version keys and 50% keys are for newer/existing version. So all you need to do is to spot outdated version registry keys which should be equal to number of keys for newer version. For example, if you have 2 keys, one must be for newer version (higher version number) and another should be for outdated version (lower version number). Similar analogy can be applied if you've 4, 6, 8 and so on registry keys in total.
4. Once you spotted all outdated version keys, right click on them one by one and select Delete. After deleting lower version number entries, you can close Registry Editor and restart your machine, the problem should be fixed by that.
Hope this helps!