Recently we came around a strange issue with battery on one of our Windows 10 system. In this case, the Windows 10 laptop suddenly started reported 'No battery is detected' over the power/battery icon on taskbar.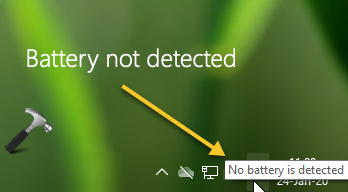 The icon will no longer offer the information regarding how much battery was left. In this situation, you will not know when your laptop will suddenly die out of battery. So for the accuracy of battery information, you need to fix this problem asap. Here is how to fix it.
FIX: No Battery Is Detected In Windows 10 Laptop
FIX 1 – General Suggestions
1. Run Power troubleshooter from Settings > Update & Security > Troubleshoot.
2. If the laptop has removable battery, make sure laptop is not connected to power source. Then you should be able to turn off the machine and then detach the battery. Following that, reinstall the battery and start laptop to check if this resolves the problem.
3. Make sure you've latest drivers for your battery installed, right from the device manufacturer. You can manually installed drivers using this guide.
4. Update your system's BIOS firmware to latest version. Check your device manufacturer's website for this BIOS update to your device.
FIX 2 – Using Device Manager
1. Press

 + R and type devmgmt.msc in the Run, hit Enter key to open Device Manager snap-in.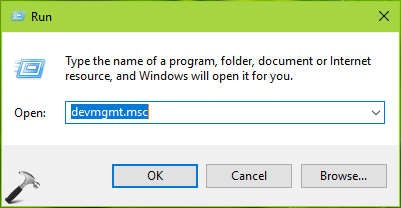 2. In the Device Manager window, under Batteries, right click on your battery and select Uninstall. In our case, the battery is Microsoft ACPI-Compliant Control Method Battery, but it might be same or different for your device. Confirm the Uninstall on confirmation prompt appearing next.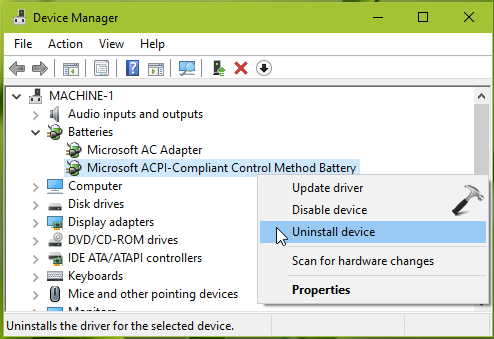 3. Then click on Action > Scan for hardware changes. The battery uninstalled in previous step should be back now but it should have also resolved the issue. Close Device Manager and return to Desktop.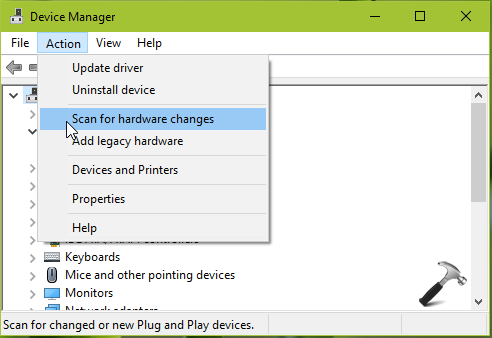 In case if issue still persists, get the laptop and battery inspected by hardware technician. They should able to track the hardware failure and suggest relevant solution.
Hope this helps!
Related: How to manually calibrate Windows 10 laptop battery.