In Windows 10 earlier versions, you can go to Settings > System > About and click Join a domain to get your system connected to domain. However, the Join a domain option is no longer available in newer versions. But you can still use old method via System Properties applet to join domain. Simply run sysdm.cpl command, go to Computer Name tab, click on Network ID and follow on-screen instructions.
Recently, I've came around a case where you can't still join domain using above described older method. Actually, when you opt for that process, following error may stop you in the middle:
The following error occurred attempting to join the domain <domain name>.
No mapping between account names and security IDs was done.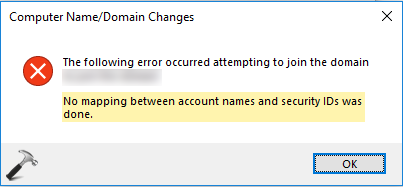 So how to join your Windows 10 to the domain now? Well, in this article, we'll try to answer this question and hopefully see the way to resolve this issue.
FIX: No Mapping Between Account Names And Security IDs Was Done
First of all, you should be well aware of basics while joining in the domain. The Active Directory Domain Controller (AD DC) should be able to contact with Windows 10. The domain name can be a NetBIOS name and it should be then properly registered with WINS. If it is not a NetBIOS name, its DNS name should exist. The domain should be registered with DNS. The DNS SRV records are usually used to locate AD DC for the domain. If you don't understand this information, please contact your network administrator.
Once you've confirmed that there is no issue with domain but the problem remains with Windows 10, you can try out these suggestions:
1. Try to create another administrator local account and check this helps.
2. Restart your computer and see if you retry the process of joining domain with success.
3. If required, try enabling built-in administrator account and check.
4. If problem still persists, checkout logs at C:\Windows\debug\dcdiag.txt (assuming Windows is installed on C:) and share them with your network administrator. This will help the administrator to figure out what went wrong and thus they can reach out to fix.
Hope something helps!