One of the most frustrating events while using Windows is when you get stop code/BSOD screen. It not only halts your current session but sometimes may stop you from using Windows. Unless the root cause for the stop error is fixed, you will keep meeting the BSOD screen. This article talks about yet another BSOD error we recently came around.
The complete error message in this case is as follows:
Your PC ran into a problem and needs to restart. We'll restart for you.
Stop Code: UNEXPECTED_STORE_EXCEPTION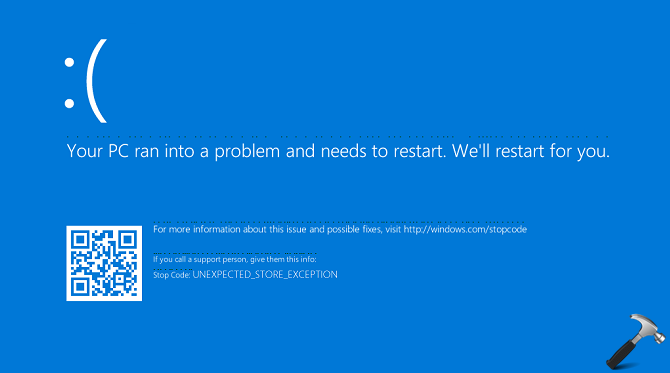 When this stop error occurs, Windows will try to reboot itself so that no damage to your machine happens. The UNEXPECTED_STORE_EXCEPTION bug check has a value of 0x00000154. If you're experiencing this error on your Windows, here is how you can fix it:
FIX: UNEXPECTED STORE EXCEPTION BSOD In Windows 10
1. Firstly, boot into Safe Mode. If you don't face the issue in Safe Mode, some driver might be the root cause. Uninstall third-party software installed on the system (especially the security suites such as antivirus) and check the status of issue.
2. If you still can't spot the correct driver causing the problem, run the Driver Verifier.
3. Since the error relates to store exception in turn related to memory corruption, run Windows Diagnostics Tool.
4. In Windows 10, users can also run Blue Screen troubleshooter to rectify issue.
5. Another possibility stands for this error is the disk corruption. You may run chkdsk /r /f c: command (assuming Windows is installed on C:) to fix this the disk corruption.
6. In case if you still have the issue in your hand, collect the dump files and post it to Microsoft Community/Technet IT Pro forums for analysis. The BSOD analysts there will help you to spot the root cause and fix it.

7. Perform the in-place upgrade or Refresh, in case if you still have the problem.
8. Last option to fix the issue would be clean install.
Hope something helps!