We all know, if you've multiple issues on your Windows 10, you can either Refresh or Reset your system. These recovery options are covered under following guides/links:
An user is supposed to use Refresh when he wants to reinstall Windows but do not want to loose the data. On the other hand, Reset is useful, if you want to completely wipe the data and reinstall Windows 10. Both options are pretty handy to use and preserves your Windows activation for you.
Then comes the term "in-place upgrade". Using in-place upgrade, you can reinstall Windows 10 within Windows 10 with a flexibility to keep or loose data. In-place upgrade is done to simply reset all the custom settings you've made to your Windows 10, for example, to reset Registry Editor to default.
Windows 10 In-Place Upgrade v/s Reset v/s Refresh
This table will clear your understanding about in-place upgrade and show you how it is different from Reset and Refresh options.
| Point of comparison | Refresh | Reset | In-Place Upgrade |
| --- | --- | --- | --- |
| Personal data, apps retained | Yes | No | User select-able |
| Customization retained | Yes | No | No |
| Installed Windows Updates retained | Yes | No | No |
| Windows Activation preserved | Yes | Yes | Yes |
| Windows 10 install media require | No | No | Yes |
| Windows 10 install media condition | N/A | N/A | Should of same architecture and language, of which Windows is installed currently. It should be of same or a newer Windows 10 build. Older build installation media won't work and fail to in-place upgrade newer build. |
| Administrative privileges | Required | Required | Required |
| Minimum free space required | N/A | N/A | At least 10 GB |
| Processing time | Medium | Fast | Slow |
So without wasting anymore time, let us start the in-place upgrade.
How To Repair Windows 10 Using In-Place Upgrade
Before you start, make sure:
1. Your Windows 10 device have enough battery (more than 60%).
2. You temporarily uninstall your third-party antivirus program (if exists).
1. Mount the Windows 10 ISO file in File Explorer or plug-in your Windows 10 bootable USB. You should now see CD drive labelled entry under This PC. Click on that entry and then right click on setup.exe file, select Run as administrator.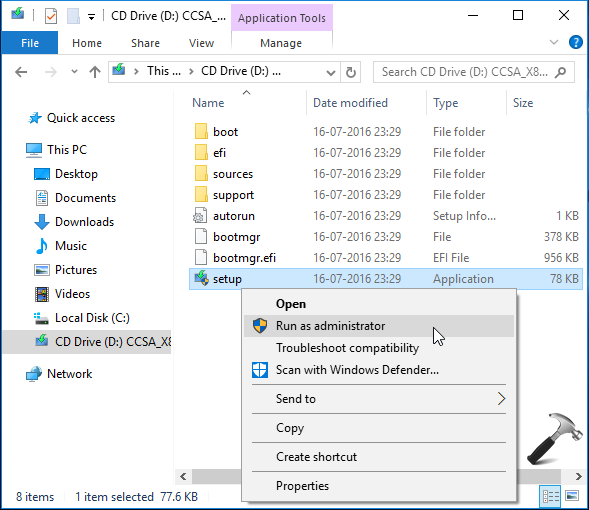 2. Then in Windows 10 Setup screen, choose Not at the moment for Get important updates and click Next.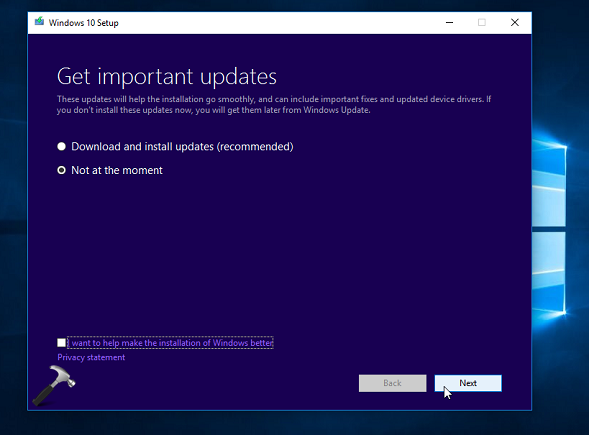 3. Moving on, accept End User Licensing Agreement (EULA) by clicking Accept button here: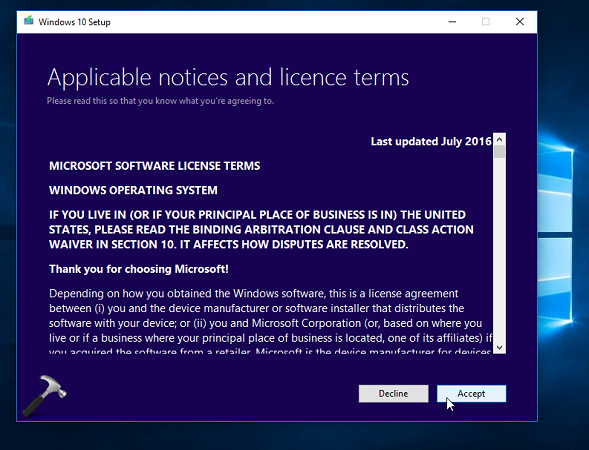 4. Now select if you want to keep your data, since this is in-place upgrade, you must opt for Keep personal files and apps option here. Click Next.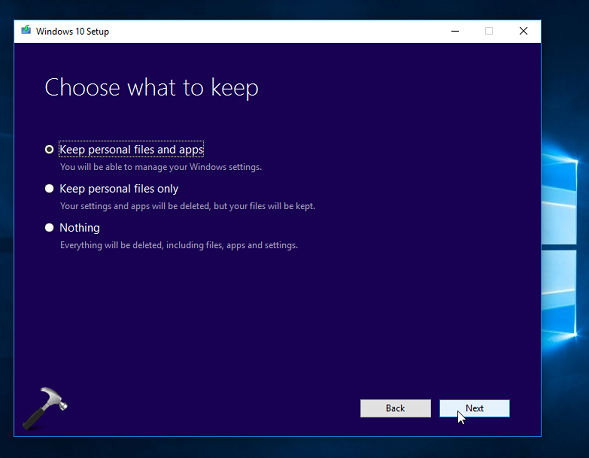 5. Hit Install button to start in-place upgrade.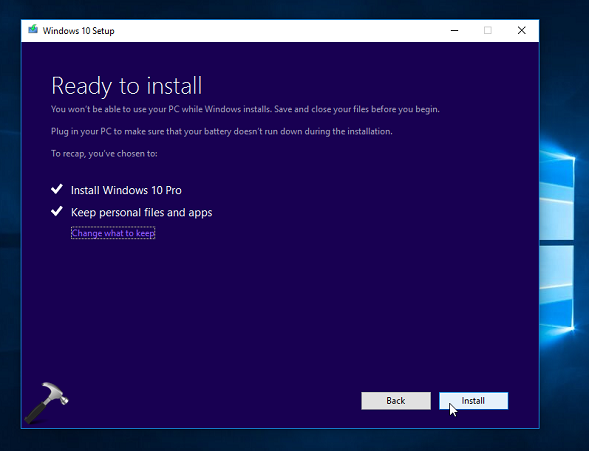 6. Your PC will be reboot itself and then you can see progress of installation here: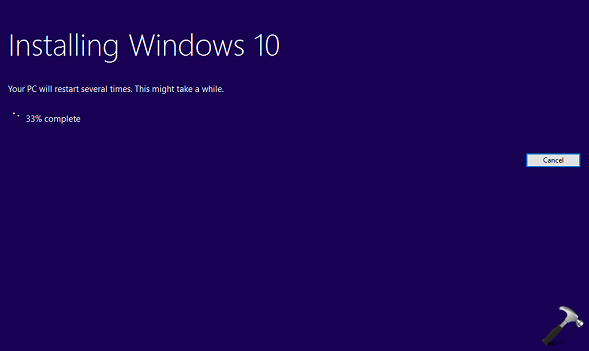 7. After another restart, you'll see below shown screen, where Windows is performing upgrade. It may take up-to few minutes, so keep patience until it finishes.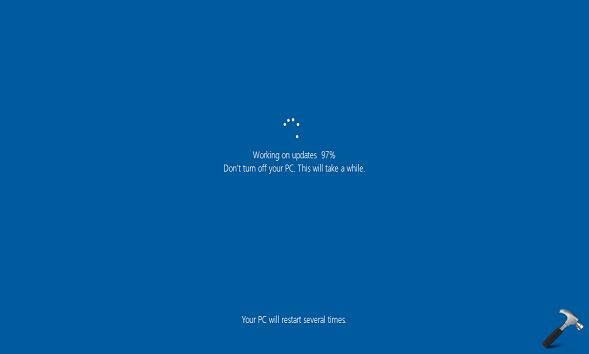 8. After reboot, you'll be able to log-in to your machine with your previously used account. However, if you've selected Nothing option at step 4, you'll need to create new user account to log-in and carry on.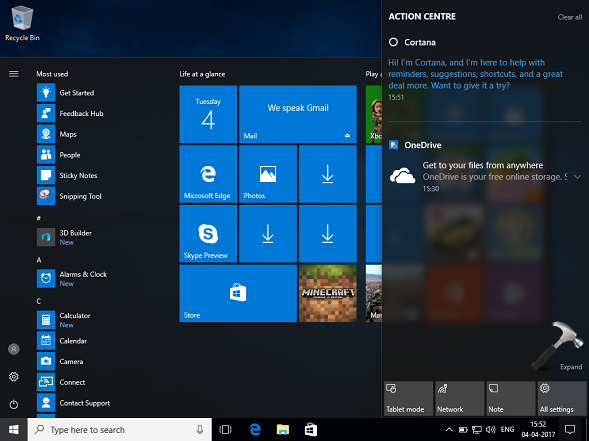 Hence, this completes the in-place upgrade for Windows 10.
That's it!
FYI, other options to repair Windows 10 installation:
2. Inbox Corruption Repair Using DISM