Microsoft recommends Windows users to install latest updates as soon as they available, so that they have hassle free experience. But sometimes things don't work as we expect and hence users may not able to install each and every update. This post addresses a Windows Update problem in which system denies to install updates.
Actually if an update is installing, Windows automatically blocks rest updates to install at same time. Installation is done through Windows Installer with its dependency service msiserver. If there is some corruption of files related to msiserver, Windows blocks other updates from installing even when there is no update being installed at the moment. As a consequence of this user is unable to install any updates and receive this message instead:
We can't install some updates because other updates are in progress. Restarting your computer may help, and we'll keep trying to update.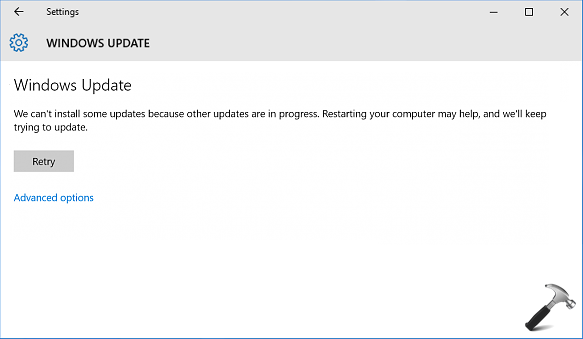 As suggested, you may try restarting your machine and see if the error resolves by itself. You may also like to run Windows Update troubleshooter and try resetting Windows Updates components manually to fix this. If the issue still persists, you can try these additional suggestions:
FIX : We Can't Install Some Updates Because Other Updates Are In Progress For Windows 10
FIX 1 – Re-register Windows Installer Service
1. Press Ctrl+Shift+Esc to open Task Manager. Switch to Services tab and scroll down to found msiserver service. You have to right click and select Stop. In our case, service was already stopped.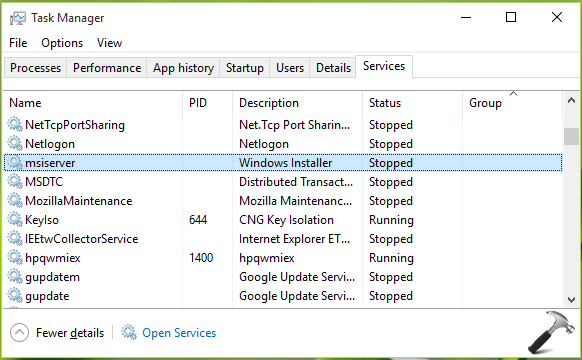 2. Next, right click Start Button and select Command Prompt (Admin). In administrative Command Prompt type these commands one by one followed by Enter key:
MSIEXEC /UNREGISTER
MSIEXEC /REGSERVER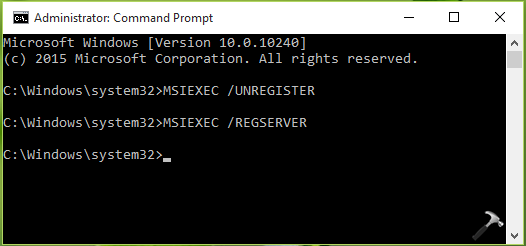 3. Then again in Task Manager, right click msiserver service and select Stop.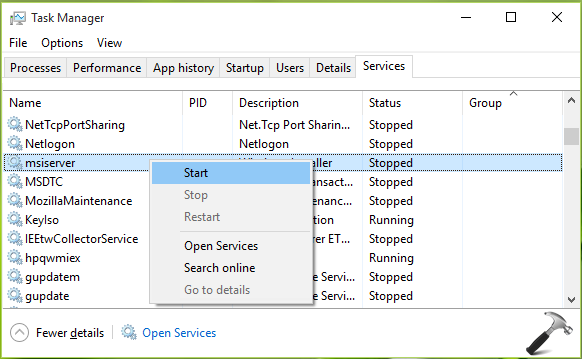 You can now try to install the updates and see how it goes. In case if there are no changes in situation, refer FIX 2.
FIX 2 – Using Registry Editor
Registry Disclaimer: The further steps will involve registry manipulation. Making mistakes while manipulating registry could affect your system adversely. So be careful while editing registry entries and create a System Restore point first.
1. Press

+ R and put regedit in Run dialog box to open Registry Editor (if you're not familiar with Registry Editor, then click here). Click OK.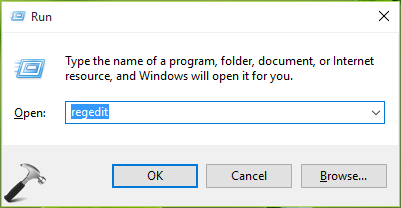 2. In the Registry Editor window, navigate to following registry key:
HKEY_LOCAL_MACHINE\SYSTEM\CurrentControlSet\Control\Session Manager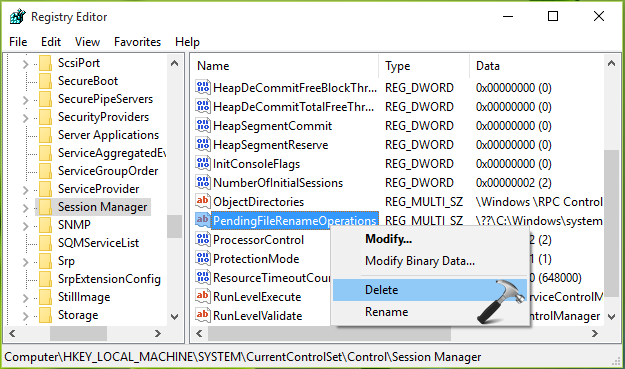 3. In the right pane of Session Manager key, right click PendingFileRenameOperations registry string (REG_MULTI_SZ) and select Delete. Confirm it with Yes option:

4. Similarly delete InProgess registry string (REG_SZ) from HKEY_LOCAL_MACHINE\SOFTWARE\Microsoft\Windows\CurrentVersion\Installer. Close Registry Editor.
Reboot the machine once again and you should able to install updates now.
Check following video to illustrate FIX 1:
Hope this helps!