In our previous article, we've seen detailed information about Personal Vault, the OneDrive feature:
What Is Personal Vault In OneDrive And How To Use It?
Now this article addresses an issue that occurs while you setup Personal Vault. You may receive following error message while doing so:
We couldn't setup your Personal Vault
Your system administrator has configured encryption settings that are incompatible with Personal Vault. Error code: 0x8031002c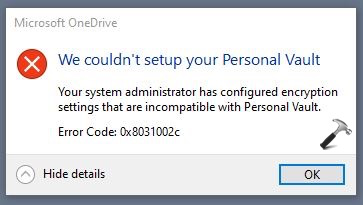 Image credits: Technet IT Pro forums
Due to the above mentioned error, you won't be able to setup Personal Vault and hence can't keep your sensitive documents securely. This error was experienced with OneDrive sync client running Windows 10. Here's how you can fix it.
FIX: We Couldn't Setup Your Personal Vault
We all know that in Windows 10 (except in Home edition), we've BitLocker feature which is used to securely encrypt your drives, documents. Moreover, BitLocker can be enabled directly to encrypt entire operating system volume in which OneDrive sync client is also present. According to Microsoft, Personal Vault offers best in class security with legacy of OneDrive and its benefits. So there is some conflict which is created while setting up Personal Vault.
This case is one of perfect example of the conflict between BitLocker and Personal Vault. If you've already setup BitLocker drive encryption on operating system volume or have some BitLocker policies applied on the system, you may face this issue with Personal Vault.
What you can do to resolve this is that you remove BitLocker policies which is in-effect on the machine. Event if that doesn't works for you, temporarily decrypt the BitLocker drive and try setting up Personal Vault and hopefully that should work.
As we all know Personal Vault is still work in progress – that means the feature is still in under some development phase and isn't available to certain regions of the world atm. Once the feature gets maturity, I believe this kind of issues will no longer occur.
Hope this helps!
Related: We Couldn't Unlock Your Personal Vault.