We've earlier introduced you with Personal Vault for OneDrive in following article:
What Is Personal Vault In OneDrive And How To Use It?
We've also seen the fix, in case if you couldn't setup Personal Vault.
Now in this article, we'll try to address another issue that you might came around with Personal Vault. As you the you need to unlock Personal Vault and then you can put your documents securely and lock it again. Sometimes while unlocking the Personal Vault, you may see following message:
We couldn't unlock your Personal Vault.
Something went wrong. Please try again.
Error Code: 0x80004005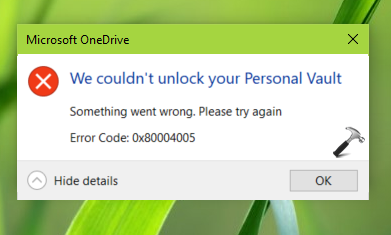 This issue is new to users and as evident, Personal Vault is the feature for which development is still in progress. So when you face issues like this, there is very less support available. However, you can try our below mentioned suggestions to see if they could help you to fix this problem anyway.
FIX: We Couldn't Unlock Your Personal Vault
FIX 1 – General Suggestions
1. As soon as you see this error, quit the OneDrive sync client, reboot and see if it automatically resolves.
2. If possible, sign out of OneDrive and setup it back using same or another account and check if Personal Vault works with that.
3. Completely reinstall the OneDrive client on Windows 10.
4. Open Windows Security, click App & browser control > Check apps and files > set the option to Off.
5. Press

+ R to open Run and type %localappdata%\Microsoft\OneDrive\onedrive.exe /reset, click OK. This should reset OneDrive and should resolve the problem.
FIX 2 – Advanced Suggestion
If FIX 1 doesn't helped you, please try these steps:
1. Right click on OneDrive icon on taskbar, click View online.
2. This will open OneDrive in your default browser, so unlock the Personal Vault online.
3. Move all the contents under Personal Vault to another location and make sure it is empty.
4. Open OneDrive settings online, and switch to Personal Vault. Click on Disable as shown in below screenshot.
NOTE: When you disable Personal Vault, content inside it will be erased automatically. So you need to make sure it is empty already, as we mentioned in step 3.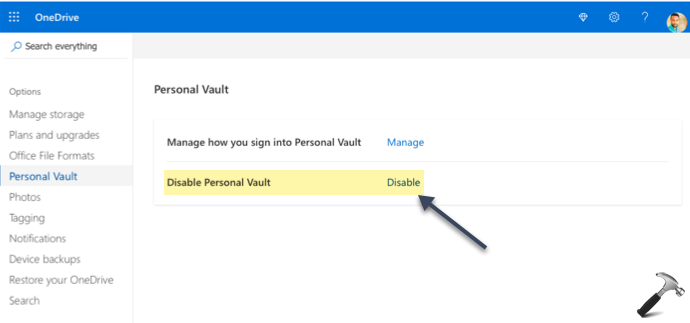 5. Now wait, until OneDrive sync client incorporates this change by syncing your account.
6. Go back to your browser and now enable Personal Vault from OneDrive settings.
7. Let the client sync now and you should be notified that Personal Vault is back again.   At this stage, you should unlock the Personal Vault in browser by verification and put your content back, which we moved out in step 3.
8. Lock the Personal Vault in browser and let sync complete. Now attempt to unlock Personal Vault back with the sync client and this time error will not appear.
Let us know via your comments, if issue still persists!