To fully enjoy features on Windows 10, you must have it activated. To activate Windows, simply go to Settings app > Update & Security > Activation and click Change product key link and type 25-character product key and click Activate. Windows will be activated within few moments.
But the real challenge with activation is after hardware change. Usually, Windows activation is linked to unique ID which in turn is linked to system hardware such as motherboard etc. So if you change hardware on the machine, the unique ID is also changed and it results in loss of activation.
To avoid this problem, Microsoft introduced digital license/entitlement method. Using digital entitlement, your Windows license can be linked to Microsoft account. When you switch to Microsoft account from local account on activated Windows 10, your digital license will be automatically linked to your Microsoft account. You can also do this manually by following steps mentioned in this guide.
With digital entitlement, the activation is stored on Microsoft servers, along with your system hardware. Since you changed system hardware, you can use digital entitlement to restore activation on your Windows 10 machine.
So here are the steps you need to perform, to re-activate Windows 10 after hardware change.
FIX: Windows 10 Activation Lost After Hardware Change
1. If you use Microsoft account to sign-in to Windows, switch to local account first.
2. Open Settings app and go to Update & Security > Activation. Click Troubleshoot link there to launch Activation Troubleshooter.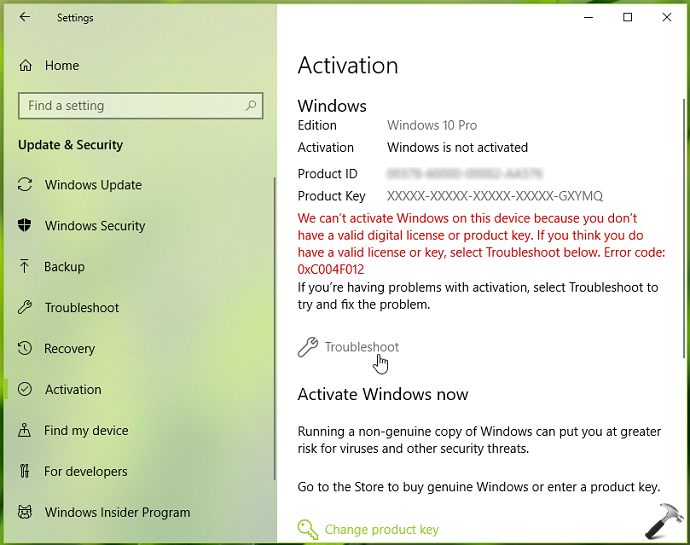 3. Now Activation Troubleshooter will automatically activate the machine. If it is doesn't, you'll receive We can't activate your copy of Windows message as shown below. Click on I changed hardware on this device recently link.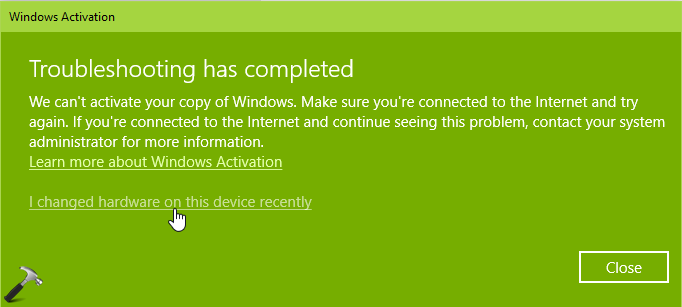 4. Moving on, in Microsoft account window, type your Microsoft account (email ID) to which your digital license was linked earlier. Click Next.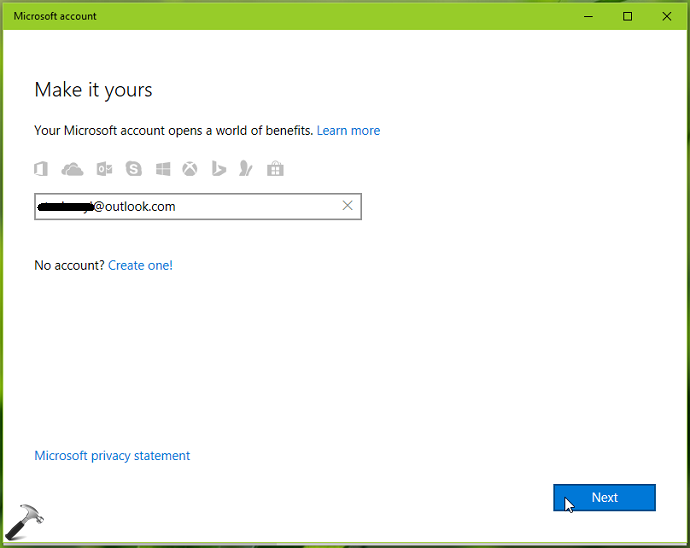 5. Then type password for above provided Microsoft account and click Sign in.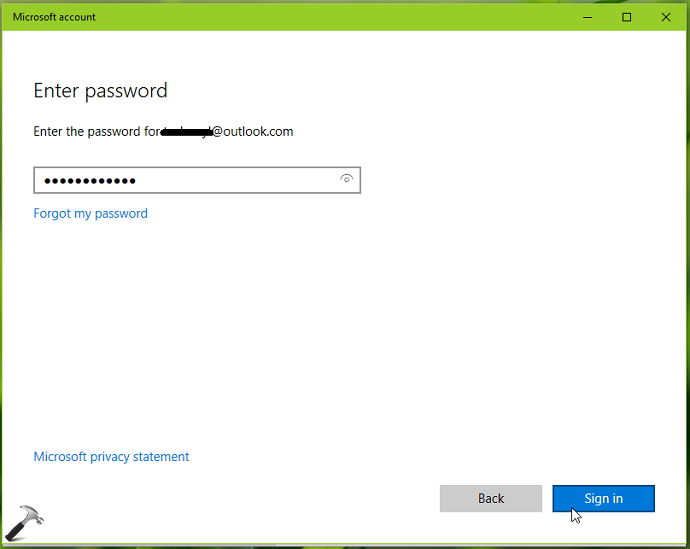 6. Now type in your currently logged in local user account password. Click Next.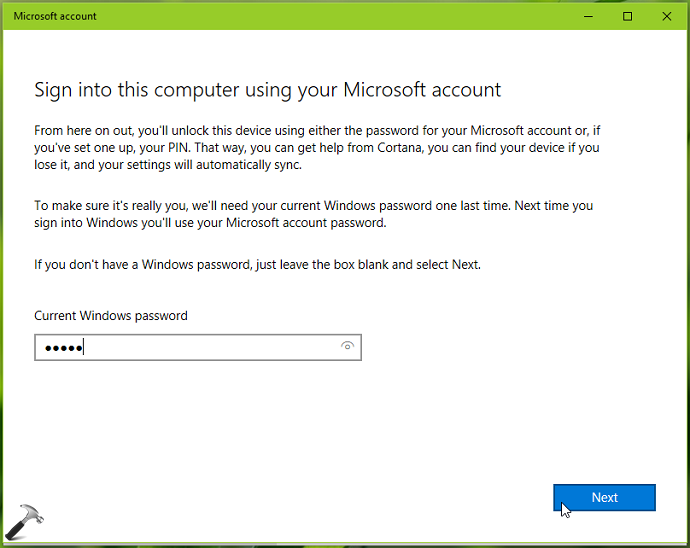 7. In Reactivate Windows 10 screen, select your device or machine which you're on currently. Then click This is the device I'm using right now. Click Activate then.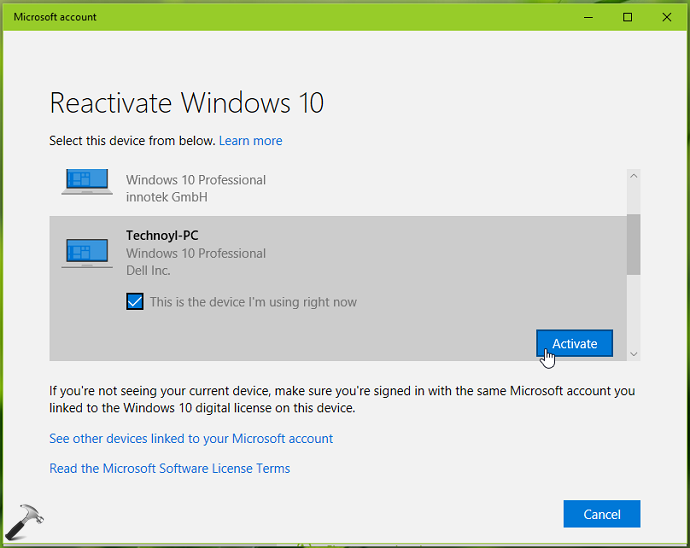 In few seconds, you'll receive We've activated this copy of Windows message. This means your Windows is now re-activated after the hardware change.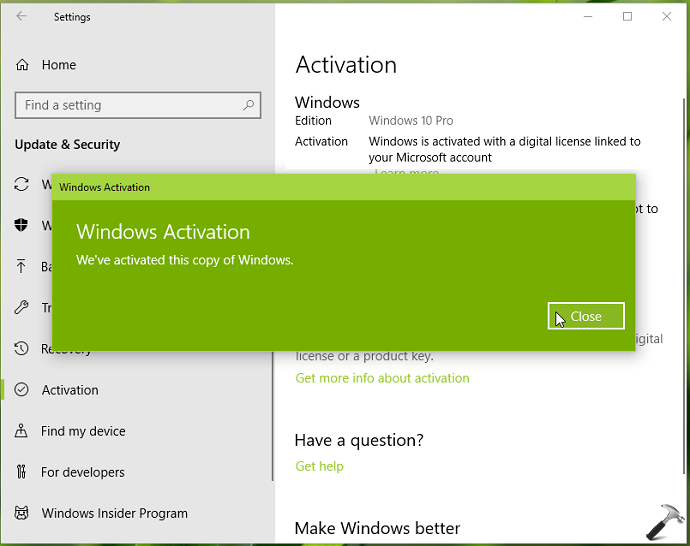 You can head over to Microsoft chat support (refer FIX 2 here) to get live help from Microsoft agent on the activation issue, if this method doesn't works for you.
Check following video to take quick illustration of this trick:
Hope this helps!