There has been a lot of issues while installing Windows 10 and we're trying to cover most of them on this website. In many cases, users often come to these installation issues and found themselves helpless because of limited support available. But we're trying our best to help you out.
This article addresses yet another Windows installation issue which is related to disk partition. Other issues while installing Windows 10 are listed here. Well, in this case, upgrading Windows 10 Build 10240 (released July 2015) to Windows 10 Build 10586 (released November 2015) gave following error after completing few percents of installation:
Windows 10 couldn't be installed.
Windows can't be installed because this PC has an unsupported disk layout for UEFI firmware.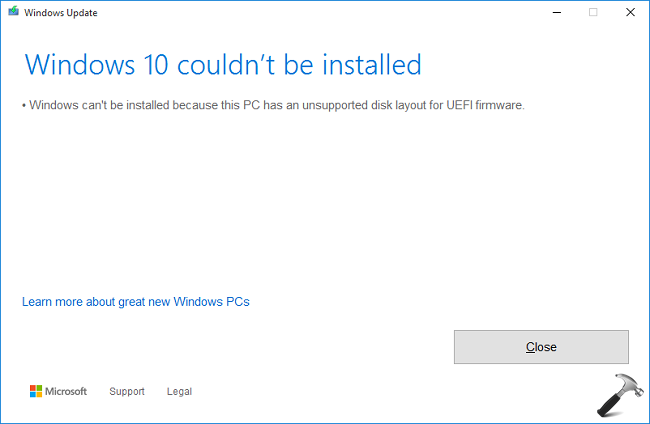 So this error revert back the installation and user need to start from scratch and this make infinite loop such that installation never completes. This problem may occur even with earlier version of Windows. Hence, the solution mentioned below to solve it can be applied to Windows 10 predecessors as well.
To solve this, first we need to know what is causing this. If you know how to read logs, you can found the cause in the log file located at C:\$Windows.~BT\Sources\Panther\setupact.log. Generally, users facing this issue can spot "Boot disk does not have MSR partition" line in that log. This means that your system is missing the Microsoft Reserved Partition (MSR) which is used on Unified Extensible Firmware Interface(UEFI)/GUID Partition Table (GPT) disks. MSR basically supports software components that previously used hidden sectors on disk. So if you could free up some space and create this partition, the error will be resolved.
Here's how:
FIX : Windows Can't Be Installed Because This PC Has An Unsupported Disk Layout For UEFI Firmware While Installing Windows 10
1. Boot into System Recovery Options. Hit the Command prompt entry at following screen: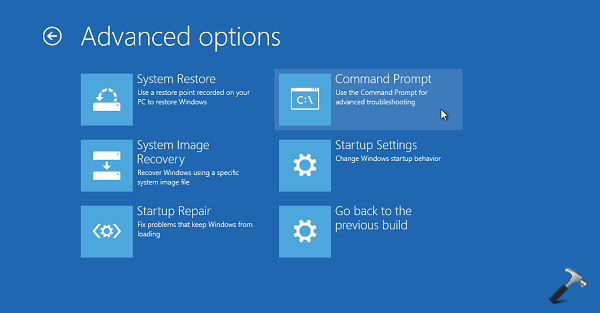 2. Last step will result in opening of Command Prompt at boot.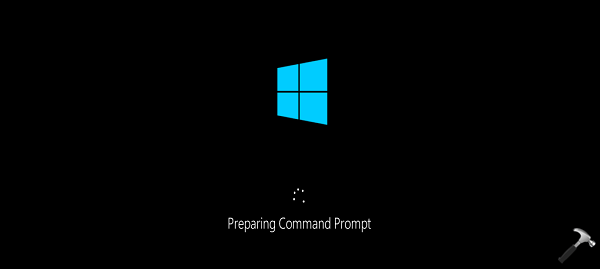 Select your admin account and enter your select account password to continue.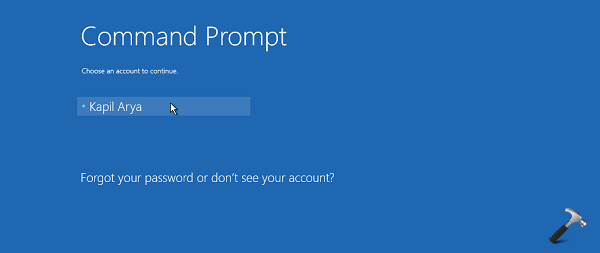 3. Then type following commands one by one in the Command Prompt window:
diskpart
list disk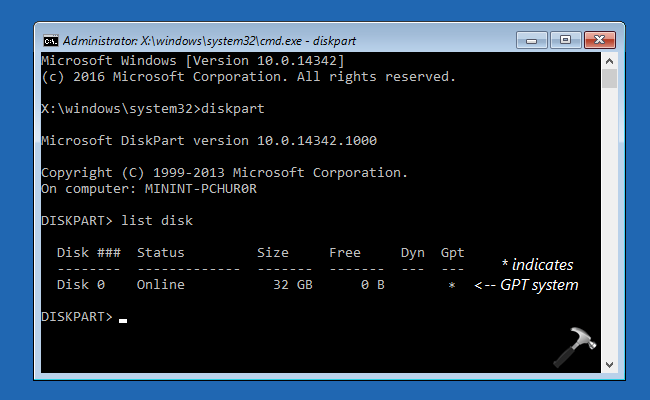 After running list disk, if you see * symbol under GPT, it means your system is using GPT scheme. If you don't see * symbol, that means your system is using Master Boot Record (MBR) scheme and you need to convert it into GPT first. Further steps will only work for systems using GPT scheme.
4. Moving on, type following commands (mentioned in bold letters) one-by-one and press Enter to execute them.
select disk 

<DISK NUMBER>

              Replace 

<DISK NUMBER>

 with actual disk number.
list partition                          List all partitions on selected disk.
create partition msr size=128                Creates MSR Partition of 128 MB (ideal).
list partition                       Relist all partitions to ensure MSR is created.
exit                                           Exit from DiskPart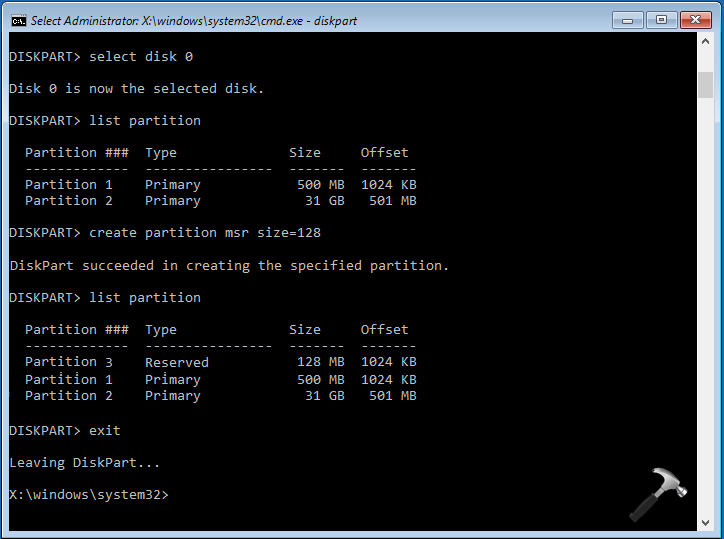 Close Command Prompt and continue to your existing operating system. You can now retry to upgrade and it should work.
That's it!