Earlier, we shared you the fix for problem where you can't install Windows 10 while running in Audit Mode, in following article:
Fix: You can't install Windows while running in Audit Mode
Today, in this article, we're going to talk about another similar issue related to Audit Mode. In the fix shared above, we were not able to start installation of Windows 10 in Audit Mode. However, if you're able to start the installation by following steps of that article, you may later face issues whenever your system assumes you're in Audit Mode. Here's the error message that can appear anytime during or after installation, if that is the case:
Windows could not complete the installation. To install Windows on this computer, restart the installation.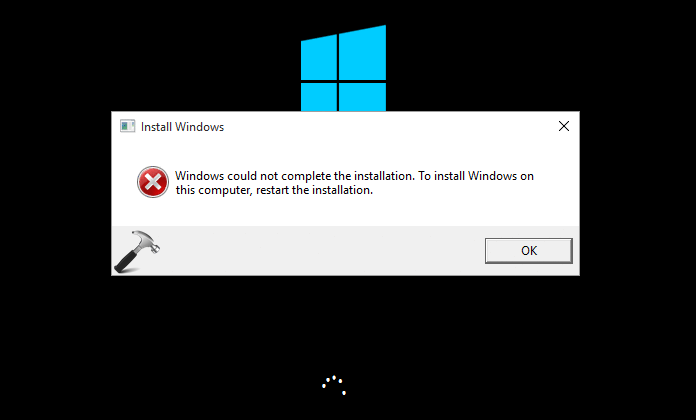 If you hit OK button, the system will reboot and again the error message appears, eventually creating an infinite reboot loop. The main reason behind this issue is that if your system thinks that you're in Audit Mode, it will usually tend to use built-in administrator account and the account is disabled or doesn't have any password associated with it. If you enable this account or assign a password to it, or simply setup an account which can be utilized in this condition, this problem can be easily solved. Here's how:
FIX : Windows Could Not Complete The Installation. To Install Windows On This Computer, Restart The Installation Error For Windows 10/8.1/8/7
1. When the error is prompted, press Shift+F10 key combination to bring Command Prompt.
2. In the Command Prompt window, type following commands (mentioned in bold) and press Enter key after each:
cd oobe 
NOTE: If you're prompted to C:\Users\USERNAME (assuming Windows is installed on C:), use similar way to navigate to C:\Windows\system32\oobe.

msoobe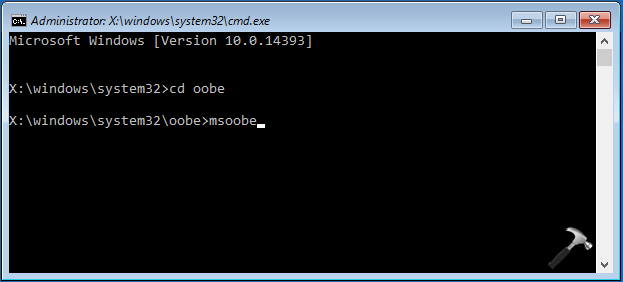 3. This should fire up user account creation wizard, where you can set an user account (and more importantly its password). Once this is done, the issue should resolve finally.
Hope this helps!