Sometimes a situation may come when one needs to change system hardware. This could because of the current hardware malfunctioned and is not performing well. Though hardware change can be done very easily with the help of computer technician but this may create activation issue. On a Windows 10 machine which has recently undergone hardware manipulation, you might see following message:
Windows reported that the hardware of your device has changed.
Error code: 0xC004F211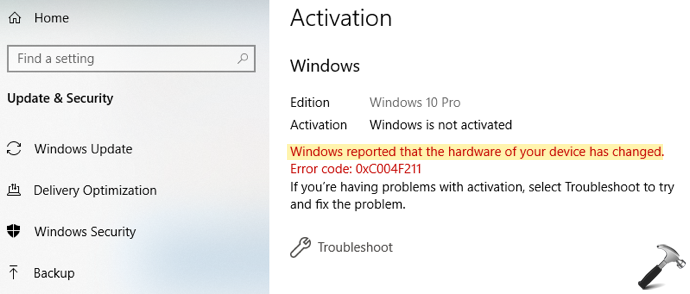 The above message is appearing because changing of crucial hardware requires you to reactivate your Windows 10 license. Not all type of hardware change requires to reactivate but hardware such as motherboard, hard drive essentially requires for reactivation. Here is how you can handle the situation and fix this problem.
FIX: Windows Reported That The Hardware Of Your Device Has Changed (0xC004F211)
First of all, you need to checkout the type of license you've installed. Worth to mention here that only retail license have transfer rights, while OEM license is not transferable. So far we have two cases now:
CASE 1: If Your License Is OEM Type
Original Equipment Manufacturer (OEM) license is mostly the license comes with machines that have Windows 10 pre-installed. This type of license is cheaper than retail license and usually installed by system manufacturers. Well, the OEM license is tied to the first motherboard on which it is activated. As it doesn't have transfer rights, so if motherboard dies, the license will die as well. This means if you changed motherboard of your system, you need to buy another license for your Windows 10. I recommend you to buy license only from official Microsoft Store at https://microsoft.com/Store.
In case if you've changed any other hardware part, then you should run Activation Troubleshooter and this would fix the problem.
CASE 2: If Your License Is Retail Type
Though the retail license have transfer rights, but it may require reactivation when you change crucial hardware, such as motherboard. The error you received is part of this.
You can perform the steps mentioned in following guide to reactivate your system:
Steps to reactivate after hardware change in Windows 10
In case if you're unable to reactivate using above linked guide, see this fix:
We can't reactivate Windows on this device. Try again later.
Hope this helps!