You can connect Windows 10 via various networking modes such as Ethernet, Wi-Fi or wireless, cellular mobile connection etc. Among these, WiFi is one of quick modes to connect your system to web.
But in case if you're pretty sure that your system have wireless capabilities and still, WiFi is missing from your system, this article may interest you. Following symptoms you'll notice, when wireless is missing your device:
You'll not see WiFi icon in the taskbar, see this fix if network icon is completely missing.
You'll not see any WiFi network detected.
In some cases, the wireless network adapter will be missing in Device Manager.
You'll not see WiFi settings under Settings app > Network & Internet.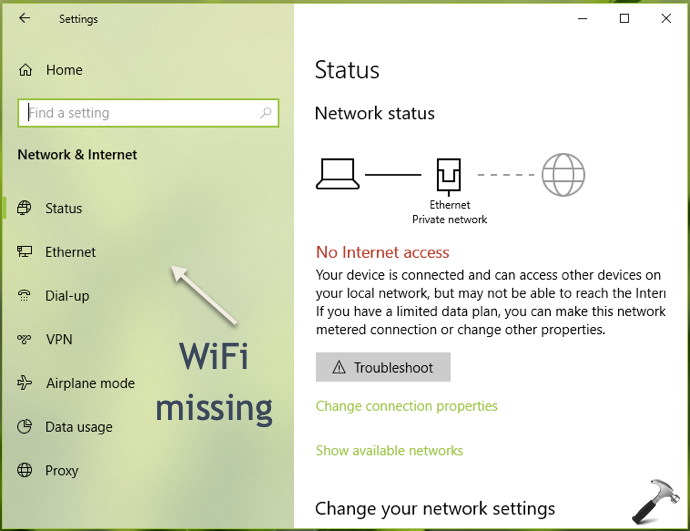 To fix this problem, you can try below mentioned suggestions.
FIX: Wireless Settings Are Missing In Windows 10
FIX 1 – General Suggestions
1. Run the Network Adapter troubleshooter.
2. If Network Adapter reports unresolved Problem with wireless adapter or access point issue, see this fix.
3. If Network Adapter founds Windows could not find a driver for your network adapter issue and is unable to fix, refer this fix.
4. Reset the network to default settings and see if you can get wireless settings back.
FIX 2 – Install Wireless Card/Adapter
In most of cases where wireless settings are missing, the common root cause is missing network adapter. If the network adapter is missing, it might be possible that your system doesn't have a wireless card installed. You can take your system to nearest computer repair shop to confirm that you've wireless card installed.
Next, if you're pretty sure that you've wireless card installed, then you will be having exact problem of missing network adapter. So you can go to your device manufacturer's website and download the latest network adapter for your system model. Once you install the correct wireless adapter for your system, wireless settings should be available to you right after that. And finally, once you get wireless settings, you should be able to detect and connect to wireless networks without any issue.
Hope this helps!