I always prefer to use Mozilla Firefox as my default browser. It works great and I always appreciate its performance. But nowadays, I'm facing a weird problem in this browser. The issue is that Adobe Plugin in Firefox is not working properly, showing some vulnerable issue texts.
This error effects mostly the ads with flash content. Have a look at a specimen: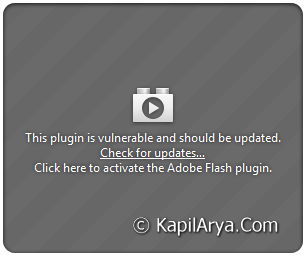 Actually Mozilla has blocked the Flash Player and its derivatives rated below 10.2 as of 5 October 2012, but it seems like the issue also persists with Flash Player above 11 edition. Here, I tried the link given with error i.e. to check for updates but it looks like the plugin checker service at Mozilla's server will take ages to reveal what's wrong!
Then I tried the hit and trail solutions, and find one as handy. This is actually the Real Player plugin's interfere with Adobe's Shockwave Flash plugin. In this article, I'm going to discuss that working way…
FIX : Error "This Plugin Is Vulnerable & Should Be Updated" In Firefox
1. Open Real Player. On the upper left corner, click Real Player icon and select Preferences.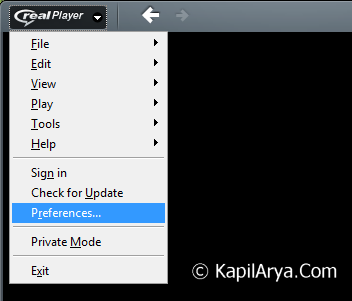 2. On the Preferences window, uncheck Enable Web download & Recording for these installed browsers.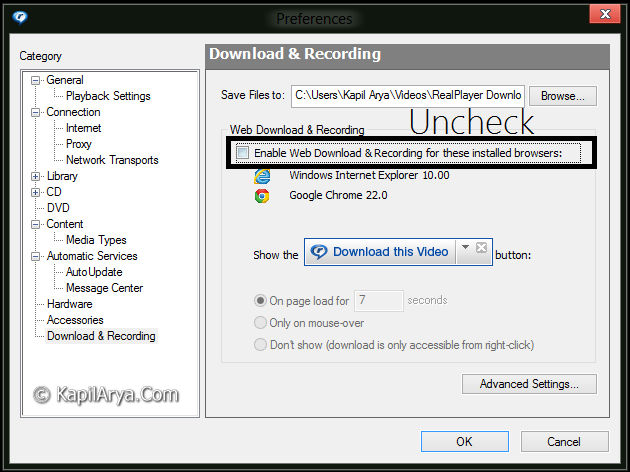 3. Click OK, then restart Firefox and it should work fine.
That's it!