If you're regular user of Mozilla Firefox, you must be loving this browser due to recent UI changes. I've been using Firefox for more than 7 years and it always worked very well for me. Firefox also seems of great choice for the Windows 10 users, for whom Internet Explorer or Microsoft Edge is not working as they expected.
However, since few days, after updating Firefox, I keep receiving following notification on startup of the browser:
Mozilla Firefox seems slow… to… start.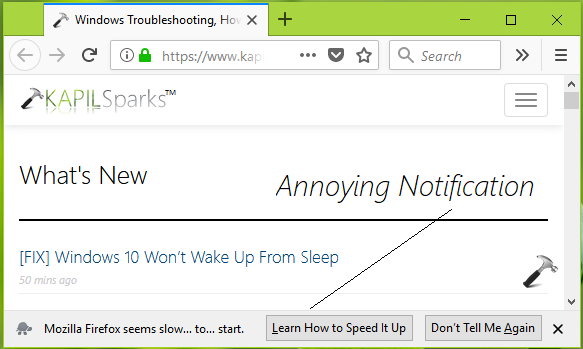 As you can see in the screenshot shown above, there are two options – Learn How to Speed It Up and Don't Tell Me Again. If I choose first option, I'll be taken to the guide to speed up the browser. If I choose second option, the notification gets disabled but comes back again, in successive sessions. Worth to mention here that my browser is working fine from performance point of view. So the notification is irrelevant to the condition and looks like spam.
So how to permanently disable this annoying notification? Well, if you're also getting this notification, you can try below mentioned steps and see if they helps.
FIX: 'Mozilla Firefox Seems Slow To Start' Notification
1. Open Mozilla Firefox window, type about:config in the URL bar and hit Enter key. Click I accept the risk! option now.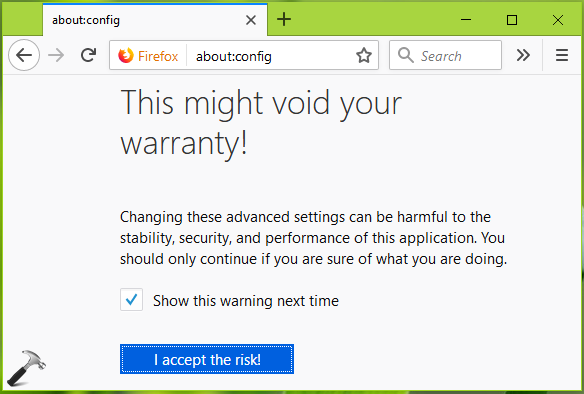 2. In the Search filter, type browser.slowStartup.notificationDisabled and you'll be resulted Preference named browser.slowStartup.notificationDisabled which is set to false by default, which is the actual root cause of this problem. Right click on this preference setting and select Toggle in the context menu.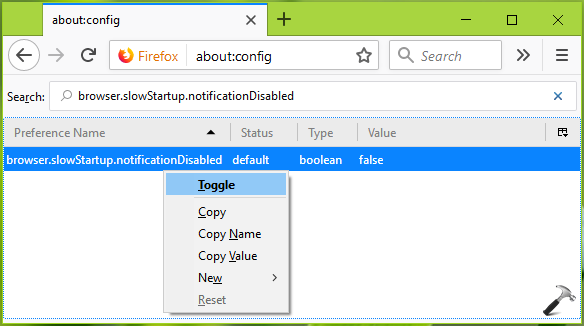 3. This should set the preference value to true.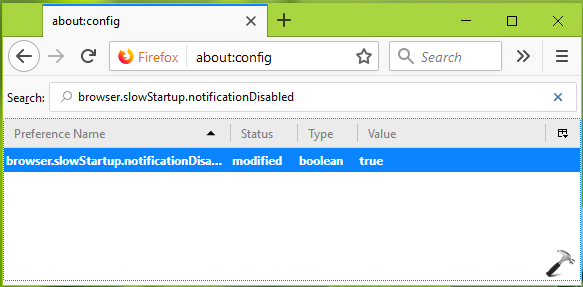 That's it, all you need to do is to restart Firefox and the notification will be blocked for ever.
Hope this helps you!
Also check: Awesome about:config Tweaks For Customization Of Mozilla Firefox