In Windows 10, some apps can access email by default. If you're wondering how you can control such a setting, then this article is for you. With Windows 10, you got many options to maintain privacy. These options are always controllable and can be accessed easily at Settings > Privacy. Under Privacy section, Microsoft has provided all the controls users will need to allow/block access to their data.
So to allow or prevent email access to apps installed on your system, try the below mentioned steps. You can allow/prevent all apps to access your email data or select individual apps that can access your email and block rest of apps. Note that some apps, such as Mail and Calendar app necessarily require access to your email otherwise they won't be functioning as expected.
How To Allow/Prevent Apps To Access Email In Windows 10
FYI: These steps are illustrated on Windows 10 V1903. The options and text labels may vary with successive versions.
1. Right click Start Button or press

+ X keys and select Settings.
2. In the Settings app, navigate to Privacy > Email.
3. Now in right pane of Email, under Allow access to email on this device, click on Change. Set the option to On or Off to allow/prevent email access, respectively. If you select On, you'll have the Allow apps to access your email option turned On.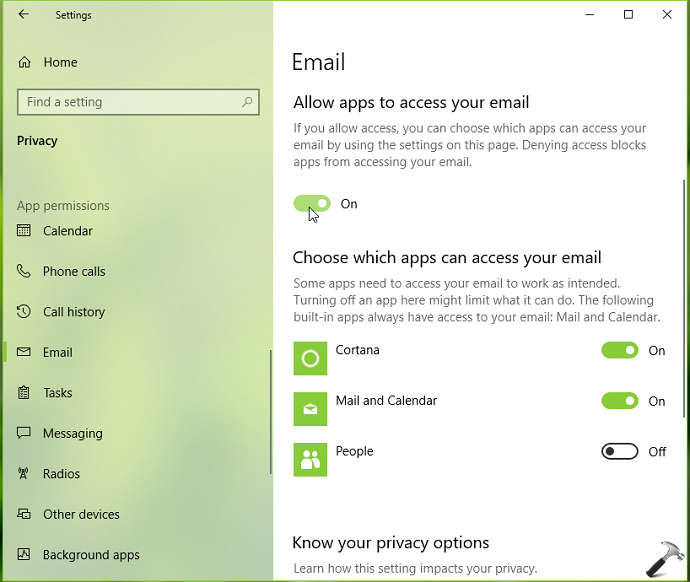 4. Then under Choose which apps can access your email heading, you can select individual apps which have permissions to access your email data. Simply toggle the option against an app name to On, to let it access your email data.
Group Policy Setting: If you want to allow/prevent apps to access your email on multiple machines in your organization/workplace, you can deploy the relevant GPO setting. Configure Let apps access email setting at Computer configuration > Administrative templates > Windows Components > App Privacy.

So this is how you can allow or block apps to access your email in Windows 10.
That's it!