Usually you're recommended to have backup of your data in advance, so that at time of system failure, you can still access your data. We've already shared how to backup your data to external or network drive in Windows 10 in this guide.
For some reasons, if you're unable to open backup application, this article may help you. Actually, there is a common issue which most of users have faced till now, while starting the backup application. Here's the error message received in this case:
The backup application could not start due to an internal error: Server execution failed (0x80080005).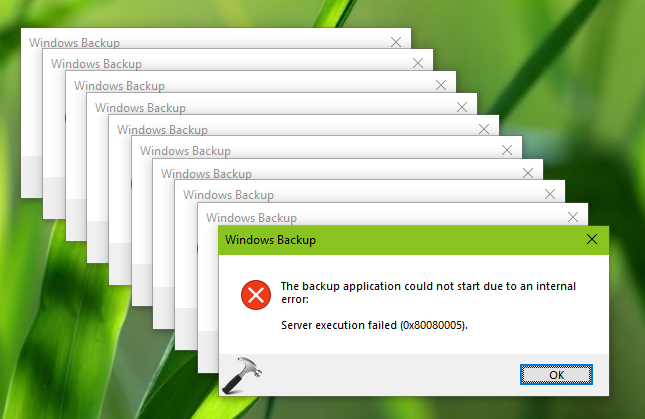 On some systems, this error message may appear directly after you login. No matter how many times you close, it will come back repeatedly. To fix this problem, you need to resolve issues with backup settings but the problem is that backup application won't open. Then how to fix this weird problem?
Well, nothing to worry about. Here's the solution:
FIX: 'Server Execution Failed (0x80080005)' For Backup Application In Windows 10/8.1/8/7
First, we suggest you to perform clean boot. This will help you to identify another program which may block backup application from starting.
If you couldn't sort out the issue with clean boot, try below mentioned steps. You must be signed in as administrator for this.
1. Right click Start Button or press

+ X keys and select Command Prompt (Admin) to open Command Prompt as administrator.
2. Type/paste following commands one-by-one and press Enter key after each:
net stop SDRSVC
takeown /F "

C:

\System Volume Information" /A
*Replace C: with your system root drive, in case if you've Windows installed on any other drive.

del "

C:

\System Volume Information\WindowsImageBackup\Catalog"
net start SDRSVC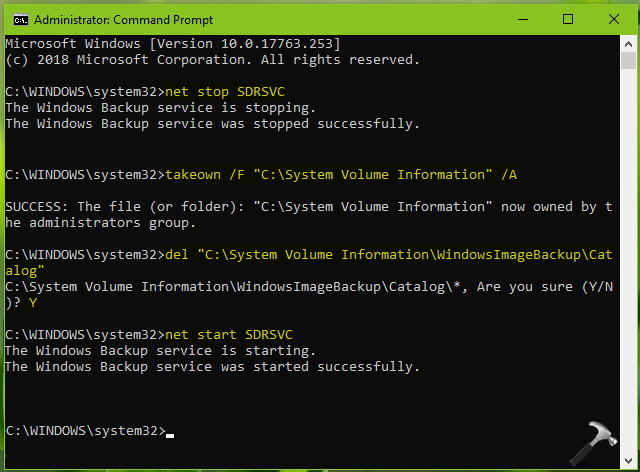 3. Close Command Prompt.
See if you can start backup application now. You'll find that issue is resolved now and you can run backup and change its settings without any problem.
Hope this helps!