In our past, we've seen how to setup your system to receive Windows Insider Preview builds:
How to get Insider Preview builds in Windows 10
Once you setup Windows Insider Preview build settings, and later if you need to change Insider Preview ring level, this article is for you. Microsoft releases Insider Preview builds to different ring levels, according to type of content they offer.
As of 20H1, we've four type of Insider Preview ring levels:
1. Fast: In Fast ring, you'll be among those users who're receiving the first development content. Builds under this ring may contain more unfurnished but newer features. Since Microsoft may test newer features with some limited devices and if you device is not one of the tested devices, it may fail to work on your system. You can always provide your feedback to Microsoft via Feedback hub app about the issues you're facing with new features. You'll receive Preview builds often in this ring level, such as, once or twice in a week.
2. Slow: Builds are more stable as compared to Fast level. The newly introduced features would have been more furnished because of feedback provided by Insiders in Fast level. However, the frequency of builds is not often, hence the name is Slow for this ring. You may receive a build once or twice in a month. This may be changed anytime and totally depends on development team. Don't be surprised, if there is no build in some month under Slow ring.
3. Release Preview: This ring level is for those users who wants to stay in Insider Preview program, but keep using stable or public version of Windows. You can opt for this ring level, without changing your current stable Windows build and you'll still be offered updates, apps and drivers, that is being offered to Insiders under Fast or Slow level.
NOTE: If your Windows build is not same as current development branch, Release Preview level will not be available.
4. Skip ahead: This level is available to limited audience for limited time. It can be used to directly enroll in next future release of current development. For example, if current development branch is 19H2, Skip ahead can be used to directly enroll for 20H1.
How To Change Insider Preview Ring Level In Windows 10
Using above information, you can change Insider Preview ring level using below mentioned steps:
FYI: These steps are performed with build 18950 (20H1). Labels, options may change with upcoming builds/versions.
1. Right click Start Button or press

+ X keys and select Settings.
2. In the Settings app, navigate to Update & Security > Windows Insider Program.
3. Now in right pane of Windows Insider Preview, under Pick your Insider settings option, click on current level for example, Slow.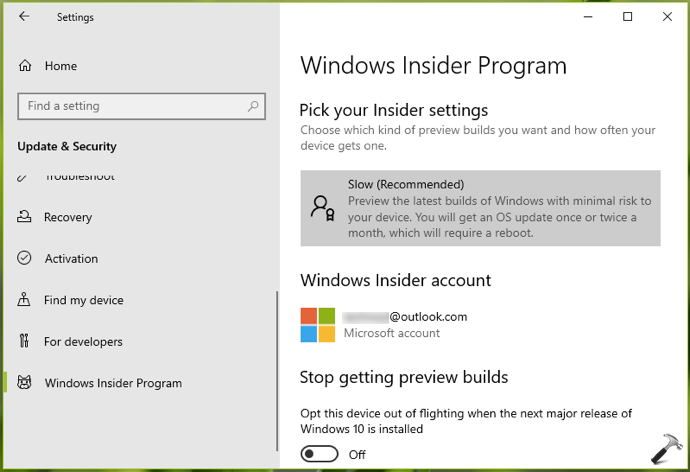 4. Next, select your Insider Preview level from Slow, Fast, Release Preview or Skip.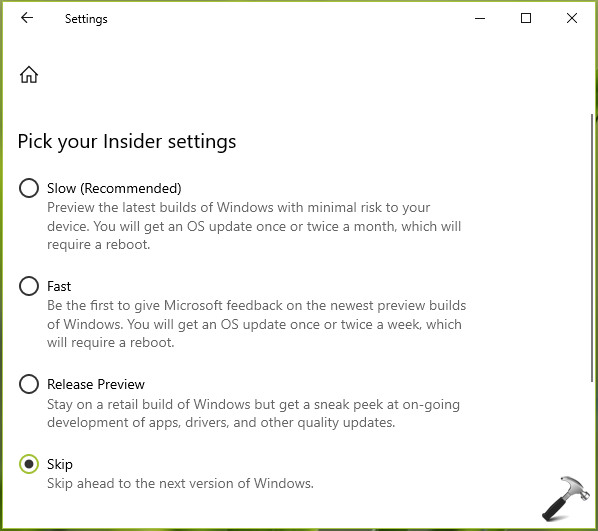 Whatever option you choose here will directly applied.
5. Close Settings app and return to Desktop.
That's it!