It happens with all of us that we save passwords in our browsers so that we don't need to enter them again and again to login into a particular site. When it comes to third-party browsers like Mozilla Firefox, Google Chrome, Opera etc. these browsers have their in-built facilities to store passwords. But when it comes to Internet Explorer, then condition is little bit different. Actually Internet Explorer uses a Windows feature named as Credential Manager to save your passwords. You can find out this Credential Manager in the Control Panel or using search feature in Windows.
Many users asked me that they got the Internet Explorer to save their passwords but they were unable to view these stored passwords, because many of them want to remove those stored passwords. But unfortunately, lack of exact way to remove the stored credentials was prohibiting them from doing so. So, today in this article, I'll show you the ways to remove stored passwords in Internet Explorer 10, 11. Here is how:
How To Remove Stored Passwords In Internet Explorer
PART 1 – Removing Stored Passwords In Internet Explorer 10
1. Firstly, press

+ W and type credential manager in the search box. From the search results, pick Credential Manager.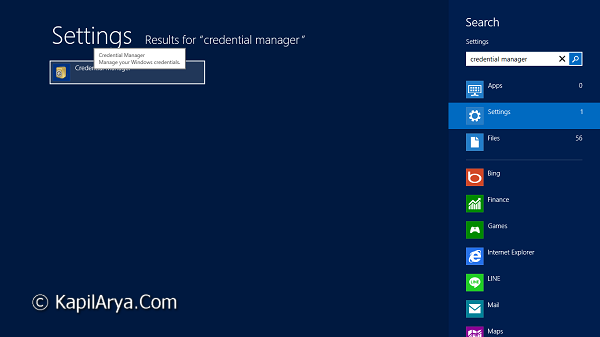 2. Now in the Credential Manager window, you can find out your saved passwords in Internet Explorer. Here the Show link reveals out the stored password, while Remove link erases the stored credential.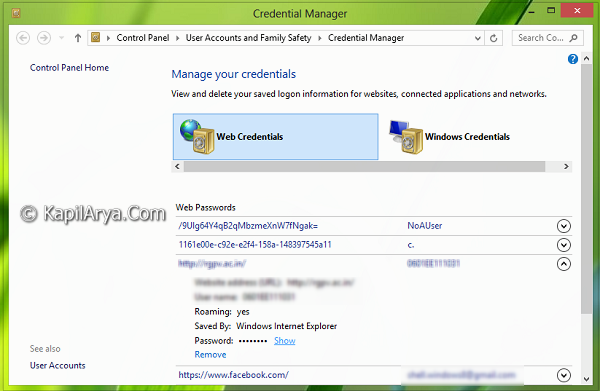 3. After clicking Show link as mentioned in previous step, you need to enter your local user account password to execute the action. After inputting the password, you can reveal the saved one.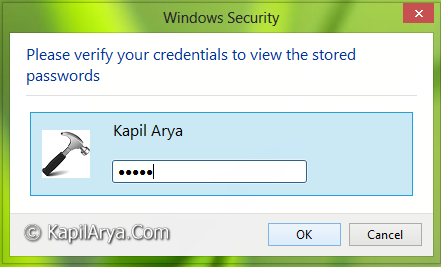 4. If you click Remove link as mentioned in step 2, you'll get following prompt, where your affirmation will remove the stored password.

In this way you can remove out the stored credentials from Internet Explorer 10. That's it!
PART 2 – Removing Stored Passwords In Internet Explorer 11
In Internet Explorer 11, the passwords are saved in the browser and you can manage them easily from the Modern UI app of the browser (aka Metro mode).
1. Press

+ I, to get Settings charm in Internet Explorer in Metro mode. Select Options.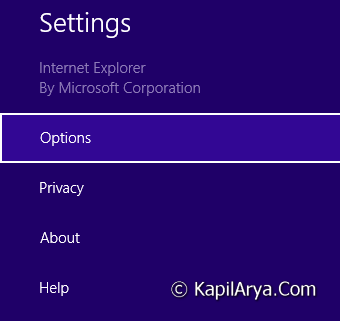 2. Now in the Options side panel, skip to the Passwords section and hit Manage.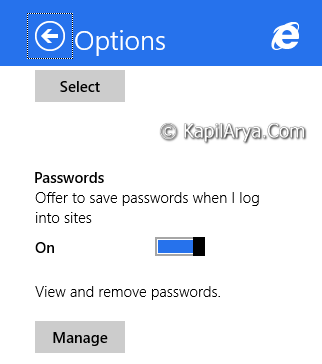 3. Moving on, now you'll see the saved passwords there, select the one you wish to remove out.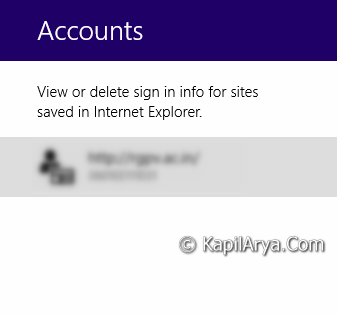 4. Finally, click Remove option to erase the selected credential.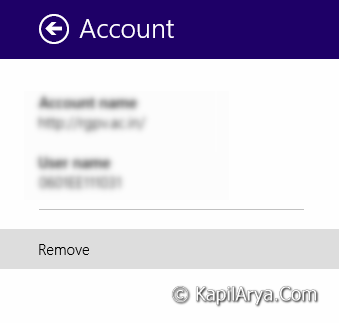 This would delete the stored password from Internet Explorer 11.
That's it! Also checkout how to completely disable Credential Manager in Windows 8 or later.