If you're a Windows 10 user and if you're using it with Microsoft account (MSA), you might have noticed that your MSA ID is displayed on login screen. Though Windows 10 is privacy compliant but this looks like a loophole and most of the users may not want to let others see their email address while signing-in.
Here is the snapshot of typical Windows 10 login screen, where the user attempting log on have its email address displayed, just below the account name.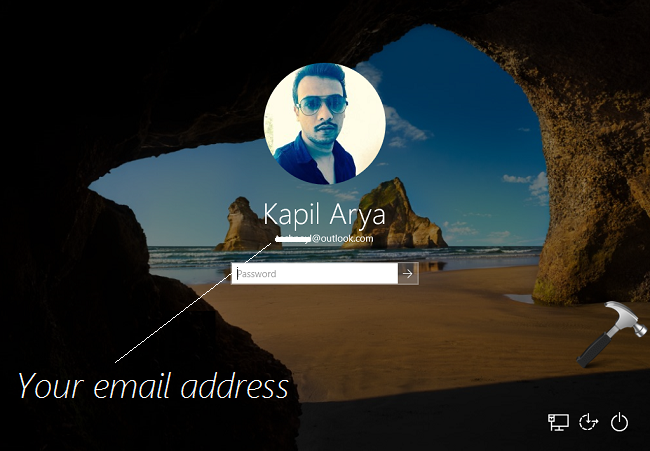 The tendency of showing email address on sign-in screen existed since Windows 10 RTM version 1511. However, after getting feedback from consumers, Microsoft addressed this problem and now they added the ability to hide the email address from your login screen. So if you're using Windows 10 build 14328 or later, you can try below mentioned methods to remove email address from Windows 10 login screen:
How To Remove Your Email Address From Windows 10 Login Screen
Method 1 – Using Settings App
1. Open Settings app and navigate to Accounts > Sign-in options.
2. Under Sign-in options screen, scroll down and look for Privacy heading. Here you can spot the Show account details (e.g. email address) on sign-in screen option which is set On by default. Set the option to Off and you're done.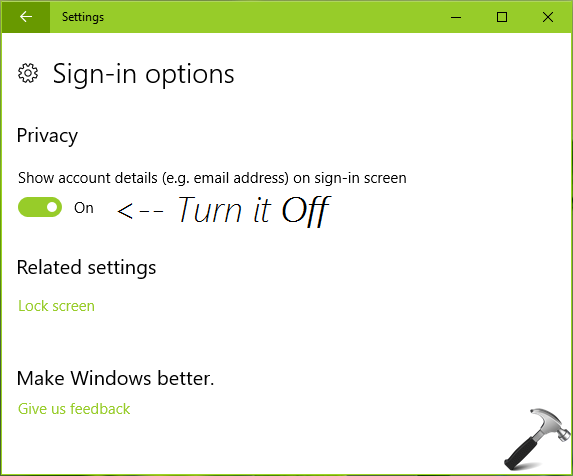 To verify, you can sign out from your account and you'll see that email address is no longer displayed on sign-in screen.
Method 2 – Using Registry Editor
Registry Disclaimer: The further steps will involve registry manipulation. Making mistakes while manipulating registry could affect your system adversely. So be careful while editing registry entries and create a System Restore point first.
1. Press

+ R and put regedit in Run dialog box to open Registry Editor (if you're not familiar with Registry Editor, then click here). Click OK.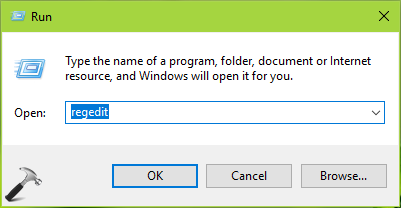 2. In left pane of Registry Editor window, navigate to following registry key:
HKEY_LOCAL_MACHINE\SOFTWARE\Microsoft\Policies\Microsoft\Windows\System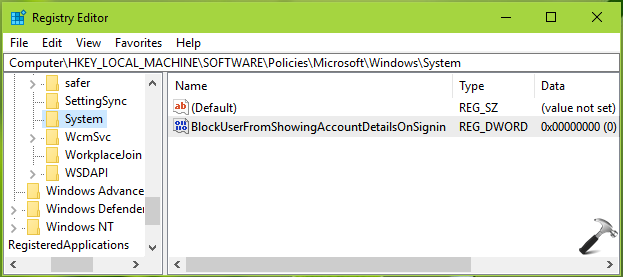 3. On the right pane of System registry key, right click and select New > DWORD Value. Name the newly created registry DWORD (REG_DWORD) as BlockUserFromShowingAccountDetailsOnSignin. Double click on the same DWORD to modify its Data: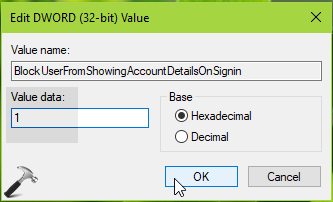 4. Finally, set the Value data to 1 and click OK. Close Registry Editor and reboot. After restarting machine, you'll realize that email address has been removed from login screen.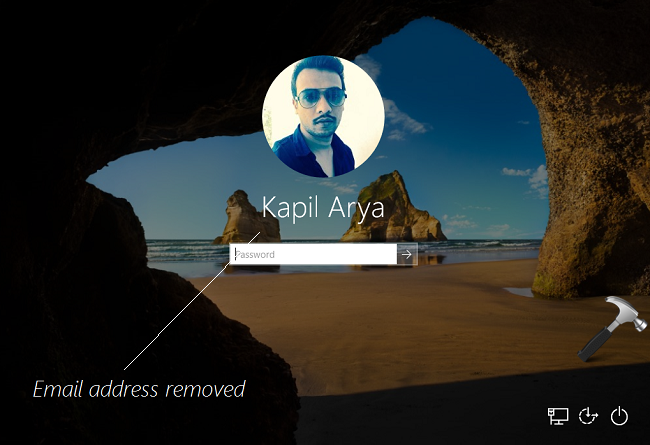 That's it!