In Windows 10, you can enable network discovery, file and printer sharing to connect with network drives, folders and devices. But sometimes an upgrade may break connection with those network attachments and you might be looking for the solution. Recently, we came around a similar case where after installing a feature update, we can no longer connect to network attachments and following error message appears:
You can't access this shared folder because your organization's security policies block unauthenticated guest access. These policies help to protect your PC from unsafe or malicious devices on the network.

If you're also facing this problem and you do not know how to fix, try below mentioned suggestions and see if they helps.
FIX: You Can't Access This Shared Folder Because Your Organization's Security Policies Block Unauthenticated Guest Access In Windows 10
FYI: These fixes will only work in Windows 10 Pro, Education and Enterprise editions.
FIX 1 – Via Group Policy
In Windows 10 Version 1709, Microsoft has disabled access on SMBv2 due to security reasons. You might be well aware of the fact that SMBv1 protocol is not installed on Version 1709 or later and Microsoft recommends users to use SMBv2. However, with SMBv2, insecure guest access is prohibited since Version 1709, while SMBv1 still allows this. But now the problem that you can't use SMBv1 due to security reasons. So the only option left is to allow guest access on SMBv2, which may however again reduce security on your system. You can refer this Microsoft support article to learn more and manage guest access as per your convenience.
FIX 2 – Via Security Policy Snap-in
1. Press 

 + R and put secpol.msc in Run dialog box. Click OK to open Security Policy snap-in.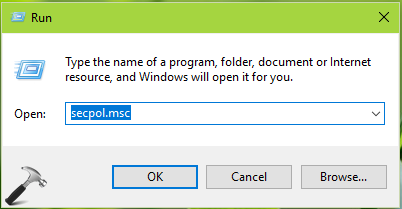 2. Then in Security Policy snap-in window, navigate here:
Security Settings > Local Policies > Security Options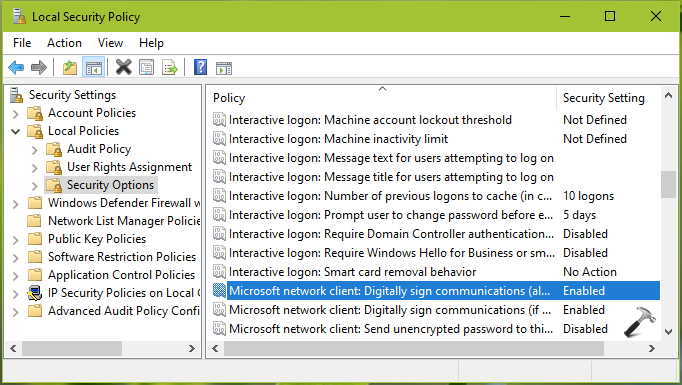 3. In the right pane of Security Options, look for Microsoft network client: Digitally sign communications (always) which might be set to Enabled and this is the cause for this issue. Double click on security setting and on the configuration sheet, set it to Disabled, which is also the default setting. Click Apply, followed by OK.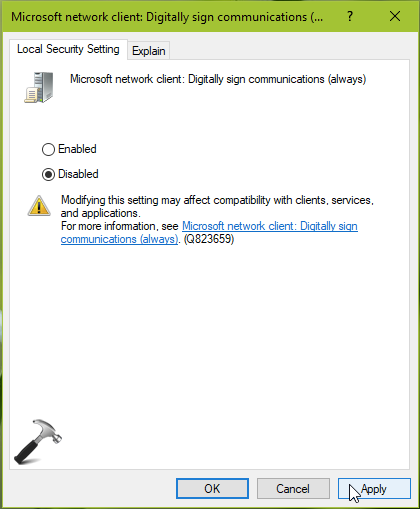 4. Close Security Policy snap-in. The issue must be resolved now, as no restart required to make changes effective for this security setting.
Hope this helps!