Cortana is personal assistant available in Windows 10. Microsoft introduced it with initial Windows 10 builds and many users have found it quite useful. The software giant has also improved Cortana experience to users, in successive Windows 10 builds. So if you're using Cortana for a long time and now wants to reset it to default for any anonymous reason, this article is for you.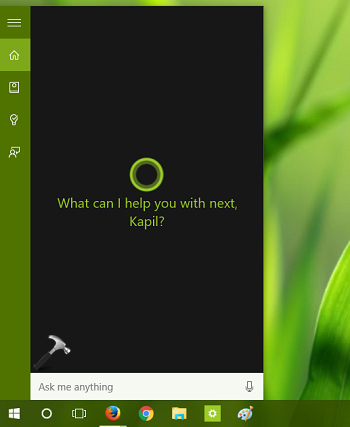 Resetting Cortana comprises of following steps:
Prevent Cortana to provide you suggestions, alerts etc.
Clear your Cortana data online
Clear your browsing and search history online
Rename Cortana app folder
Re-register Cortana using Windows PowerShell
After following above mentioned phases, you'll be able to reset Cortana to factory or initial configuration.
So without wasting the time anymore, here is the how-to part:
How To Reset Cortana In Windows 10
1. Click Cortana icon on taskbar and click Notebook icon (2nd from top). Then click Settings.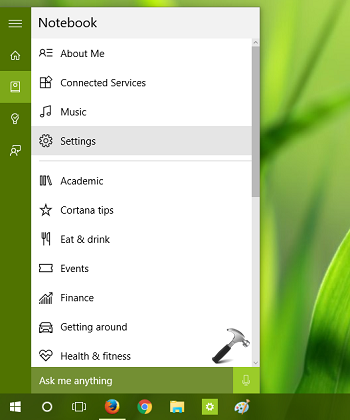 2. In the Settings pane, set Cortana can give you suggestions, ideas, reminders, alerts and more option to Off. If you've enable Hey Cortana option, set it to Off as well.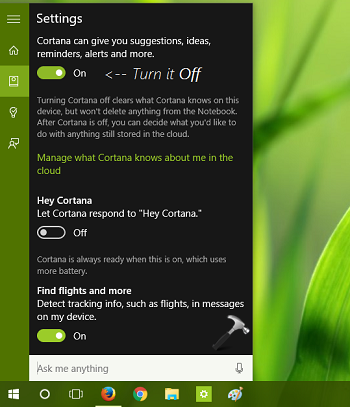 3. Then click this link to go to your Cortana settings under Microsoft account privacy dashboard. On this page, scroll down and click Clear Cortana data.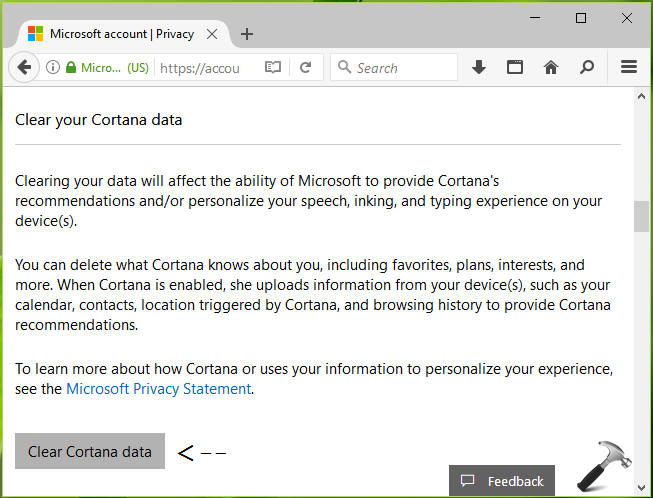 FYI:
At this point, you must clear your browsing and search history data because
Cortana
might be using or will use that data in future. You can clear these data on your
Microsoft account privacy dashboard
.
4. Moving on, rename Cortana's folder (Microsoft.Windows.Cortana_cw5n1h2txyewy to Microsoft.Windows.Cortana_cw5n1h2txyewy.old) in SystemApps folder. Follow steps 1 to 5 of this guide for this.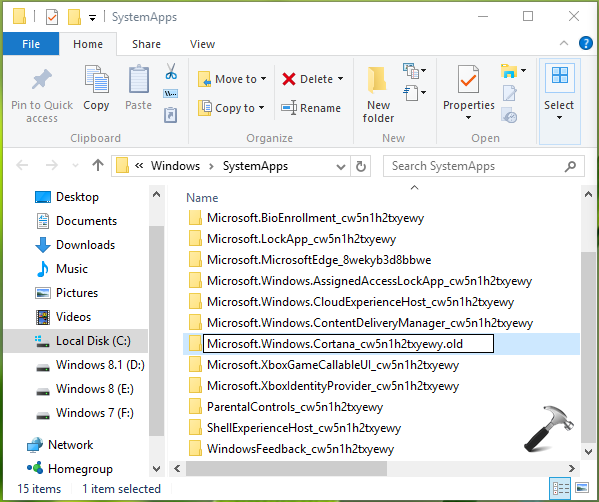 5. Now its time to re-register Cortana. So open administrative Windows PowerShell and paste following cmdlet, hit Enter key then:

Add-AppxPackage -Path "

C:

\Windows\SystemApps\Microsoft.Windows.Cortana_cw5n1h2txyewy\Appxmanifest.xml" -DisableDevelopmentMode -Register
Make sure you replace C: with your system root drive, in the above cmdlet.

Thus, in this way you've finally reset Cortana to default configuration.
That's it!
Also check:
1. How to reinstall or re-register Cortana in Windows 10
2. Reset network in Windows 10