UPDATE
: On
Windows 10 Version 1607
(Build 14393) and later, the limit to go back to earlier build is reduced to
10 days
.
We all know that Microsoft has provided Go back to previous build/OS option in Windows 10. Using this option, you can downgrade Windows 10 to previous Windows OS you were using, in case if you don't like Windows 10. But the option to rollback is valid for a month after you upgrade (refer screenshot shown below). Hence, once if it has been over a month after your upgrade, the option will no longer available for you.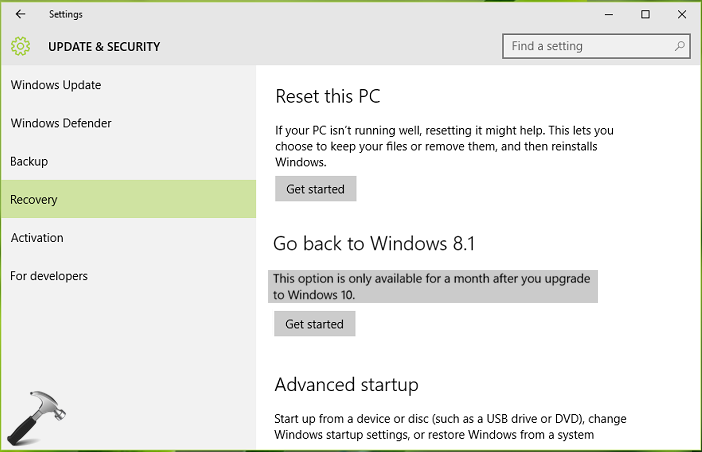 But many users found that one month is not sufficient for them to evaluate Windows 10 due to miscellaneous reasons. Some of you don't have got opportunity to checkout each feature of your interest in this one month time frame. So you must be seeking for the way which will help you to downgrade – when you want. In other words, you've to simply remove this deadline of go back to previous build within one month. In this article, we'll see a very simple yet useful approach, that will help us to downgrade Windows 10 to Windows 7/8.1, even after a month!
You have to follow these steps in advance (before 30 days limit reaches), so that you'll be able to preserve downgrade option later.
How To Uninstall Windows 10 After A Month Of Upgrade
1. Open File Explorer and in the ribbon, switch to View tab. Then click Options > Change folder and search options. In the Folder Options window shown below, uncheck Hide extensions for known file types and Hide protected operating system files (Recommended) options. Click Apply followed by OK.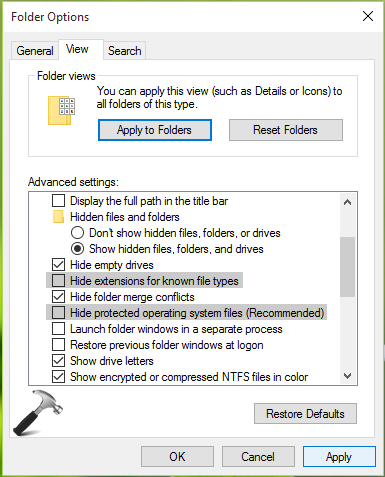 When you uncheck Hide protected operating system files (Recommended) option, you'll get following warning. Click Yes:

2. Then in File Explorer, go to your system root drive i.e. drive on which Windows is installed. Click View and check File name extensions and Hidden items options. Also locate the $Windows.~BT and Windows.old folder. Basically, we have to preserve these two folders, in order to make downgrade option available for later.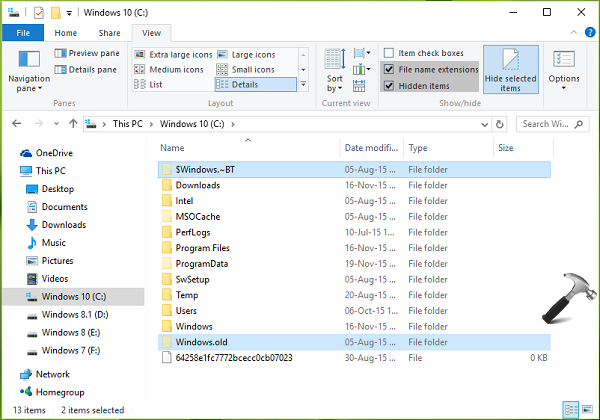 3. Rename these folders to whatever you like. For example, I would rename $Windows.~BT to Win81$Windows.~BT and Windows.old to Windows.old Backup.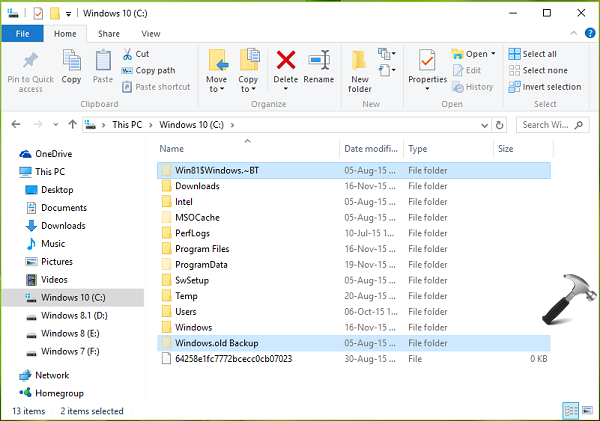 If you've any data backup software, you can backup these folders as well.
Remember, if you delete these folders even accidentally, you will loose the way to rollback, permanently.
4. When one month is over after the upgrade, simply rename both folders to their original name i.e. $Windows.~BT and Windows.old and restore them to their original location. Now go to Settings app, and you'll find that the downgrade option is now available (even after a month). You can use the steps mentioned here to downgrade then.
Hope this helps!