We're all very well familiar with DND (Do Not Disturb) registry to avoid unwanted calls and messages on our mobiles. In every country, the telecom authority has provided this facility, so that users can avoid themselves from getting into pranks or scams circulated in their region. Well, I always have DND activated on my mobile number, but still there are some messages which I couldn't resist from reaching my cell. These messages are mostly the promotional messages which you get still if you have DND activated on your number.
In Windows Phone 8.1, we have a new feature to suppress the notifications raised by these unwanted promotional messages. This is the "mute conversation" feature, that means, if you mute a thread, you'll be no longer notified when new messages arrives in that thread. Thus when you're free, you can later check new messages from the muted thread. If you're beginner with Windows Phone 8.1, here is how to mute a thread:
How To Mute Conversations In Windows Phone 8.1
1. Go to Start Screen, open the Messaging app.
2. Moving on, open the conversation you wish to mute, and tap

and then tap mute thread option.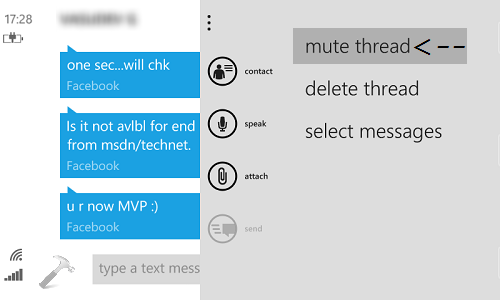 3. Finally, tap the mute option at following prompt: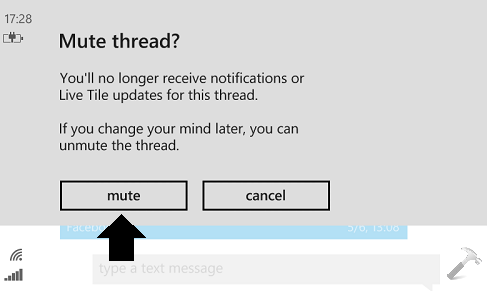 4. Thus in this way you can mute your desired threads and hence can stop the notifications from them: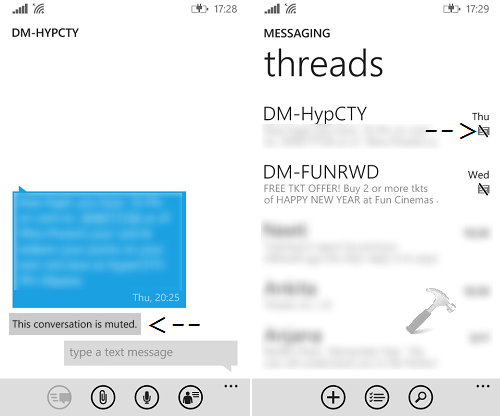 Hope you find the tip useful. Go here to learn how to block SMS & view them in Windows Phone 8.1.