If you are a regular user of Internet Explorer, you might have noticed that Internet Explorer always remember the window size of the previous session, so on every start up, it opens with the same window size at which it was closed last time. If you use Internet Explorer on Windows 8.1 RT, being as a tablet user, its really annoying to maximize the window every time. Also on a Desktop, it requires you to make a click on maximize option to get browser window scaled to full screen.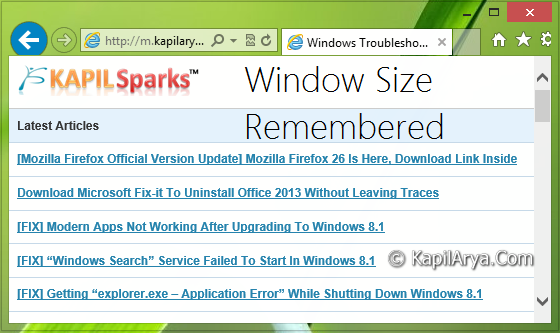 Now the question is, why can't Internet Explorer open in the full maximized window mode like the other browsers in its category do? Well, like many others, if you too are looking for the answer of this question, then this post will gonna help you. You can try this simple registry manipulation to let Internet Explorer open in maximized mode, always!
How To Always Open Internet Explorer In Maximized Window
Registry Disclaimer: The further steps will involve registry manipulation. Making mistakes while manipulating registry could affect your system adversely. So be careful while editing registry entries and create a System Restore point first.
1. Press

+ R and put regedit in Run dialog box to open Registry Editor (if you're not familiar with Registry Editor, then click here). Click OK.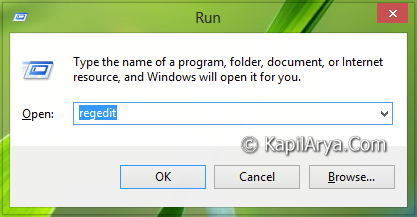 2. Navigate here:
HKEY_CURRENT_USER\Software\Microsoft\Internet Explorer\Main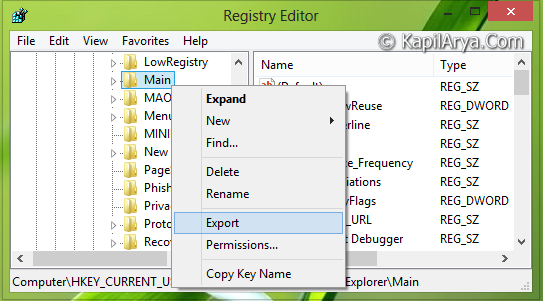 3. Firstly, right click on Main key in the left pane and select Export. Using this option, you can save the correct registry to a desired and convenient place on your computer as a backup (in form of .reg file). If something goes wrong in future, you can reset the registry using this exported backup file by doing few clicks on it. After exporting, come to right pane of Main key as shown in the below image.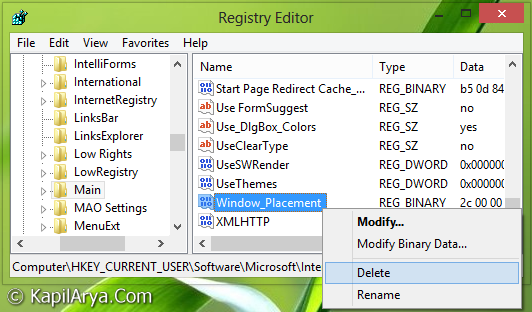 4. Scroll down to look for Window_Placement named binary DWORD (REG_BINARY). Right click on this DWORD and select Delete. Close the Registry Editor and reboot the system to have Internet Explorer always open in maximized window mode.
Hope you find the tip useful!