If you're a long time Windows user, you might have already heard about Product ID and Product Key terms. While if you're new to Windows, these terms might also be new for you. First of all, you must know that Product ID and Product Key are not same thing. They are different terms and have different usage.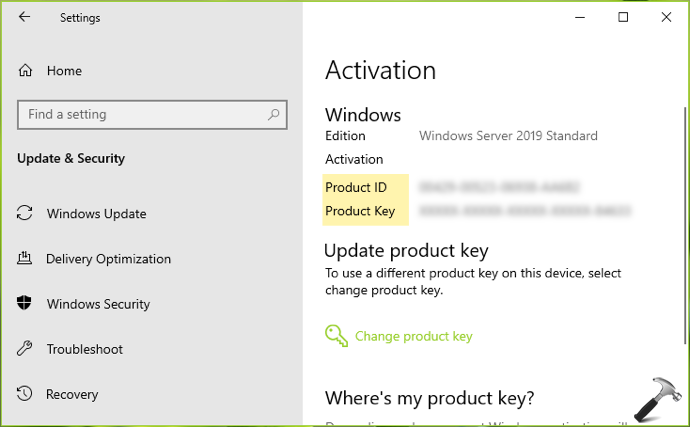 So if you're just wondering what are these terms and how you can differentiate in between them. To clear your doubts further, we'll provide in-depth comparison between both these terms in this post.
Product ID vs. Product Key In Windows
About Product ID: Importance and Usage
Product ID is usually used to identify the channel which originated the software. It also provides information about level of support that is associated with software. The Product ID is not a unique code. There is a possibility that multiple machines may have same Product ID.
A Product ID is typically seen in XXXXX-XXX-XXXXXXX-XXXXX format. Here, the second set of characters may define the Windows licensing channel. Microsoft provides Windows license via different channels depending upon need of their customers. For example, well known channels are retail, OEM, volume. To learn about type of license or channel you've, refer this guide.
To check your Product ID, go to Settings app > Update & Security > Activation in Windows 10, Windows Server 2019. For other Windows OS, open Control Panel and go to System, Product ID should be located in bottom, after activation info.
About Product Key: Importance and Usage
A Product Key is used to activate Windows software. It is 25-character unique code in XXXXX-XXXXX-XXXXX-XXXXX-XXXXX format. If you lose your unique Product Key, you may have trouble activating your Windows OS. A Product Key can be located depending upon how you got your license. To find your Product Key, please refer this article.
You can locate Product Key at Settings app > Update & Security > Activation in Windows 10. However, the Product Key is not shown by default, unlike the Product ID.  This is to prevent misuse of your Product Key by someone else other than you. Remember, you should always keep your Product Key confidential and never share it with anyone.
We hope above information should have cleared your doubts about Product ID and Product Key terms and there is no confusion further.
That's it!