Earlier, we've seen how to create Remote Desktop Connection from Windows to Mac, iPad and Windows Phone in following article:
How to create Remote Desktop Connection from Windows to Mac/Windows Phone/iPad
If you use Remote Desktop Connections feature extensively, it will be listed under Most used section of Start Menu. Also Windows 10 Start Menu Jump List will feature the recent history of remote connections you've made so far (refer screenshot).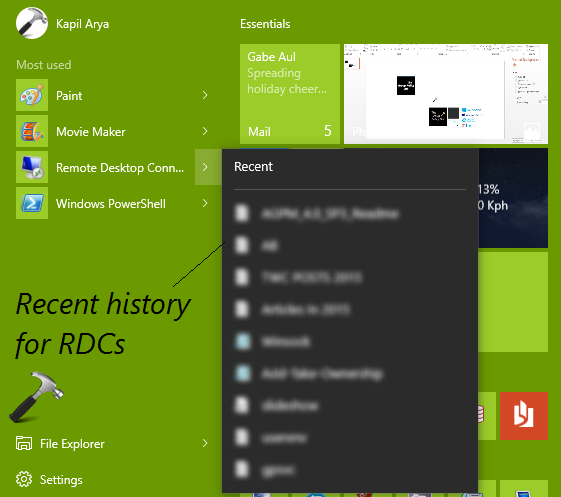 Many of you might want to hide or remove this remote connections history from Jump List. This article will help you to achieve this aim. A simple and quick workaround for this is to turn off Jump List feature in Windows 10. For that, open Settings app and go to Personalization > Start. In the right pane of this screen, turn Off the option Show recently opened items in Jump Lists on Start or the taskbar option.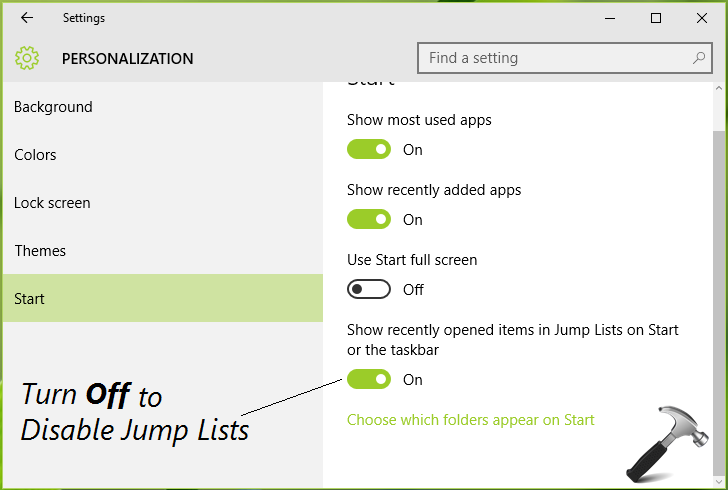 Though this solves the problem, but it will disable Jump Lists for other programs as well. You can try this registry manipulation for disabling Jump List for Remote Desktop Connections only.
How To Remove Remote Desktop Connection History In Windows 10
Registry Disclaimer: The further steps will involve registry manipulation. Making mistakes while manipulating registry could affect your system adversely. So be careful while editing registry entries and create a System Restore point first.
1. Press

+ R and put regedit in Run dialog box to open Registry Editor (if you're not familiar with Registry Editor, then click here). Click OK.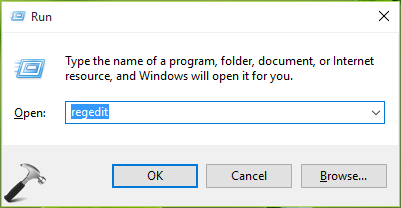 2. In the left pane of Registry Editor, navigate to following registry key:
HKEY_CURRENT_USER\Software\Microsoft\Terminal Server Client\Default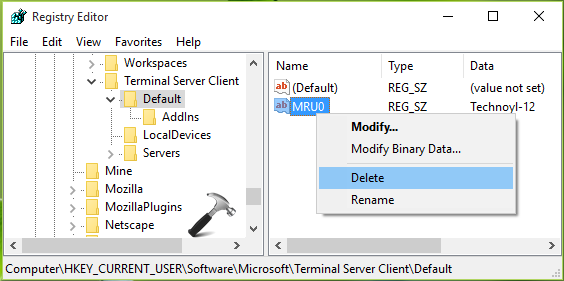 3. In the right pane of this location, look for the registry string named MRUnumber where number may be 0, 1, 2…. You have to right click over this string and select Delete. Close Registry Editor and reboot the machine. After restarting your system, you'll realize that recent Remote Desktop Connections history is no longer visible under Start Menu.
That's it!