Adding a display picture (DP) of own is the first choice users make, generally after installing Windows. If you are new to Windows 10, let me quickly tell you how to set up your account picture. Open the Settings app and go to Accounts > Your picture section. From here, you can either take your picture using webcam or browse system folders to set up one taken already.
Sometimes, due to various technical issues, users may face problem while setting up their account picture. Such cases mostly occur if your copy of Windows is not activated or is non-genuine. So first and foremost thing you should do is to activate your Windows. Generally, following message appears when you can't set up your account picture:
Account picture error
Setting the account picture failed. Please try again.
In case even after confirming that your Windows is genuine and activated, if your facing this issue, then you can try the steps mentioned below to fix:
FIX : "Setting The Account Picture Failed. Please Try Again" In Windows 10
1. Open File Explorer and go to View tab. Make sure Hidden items option is checked here. If not, do check it.

2. Next, navigate to following folder in the File Explorer window:
C:

\ProgramData\Microsoft\Windows
*Substitute C: with your system root drive. ProgramData folder is hidden folder by default.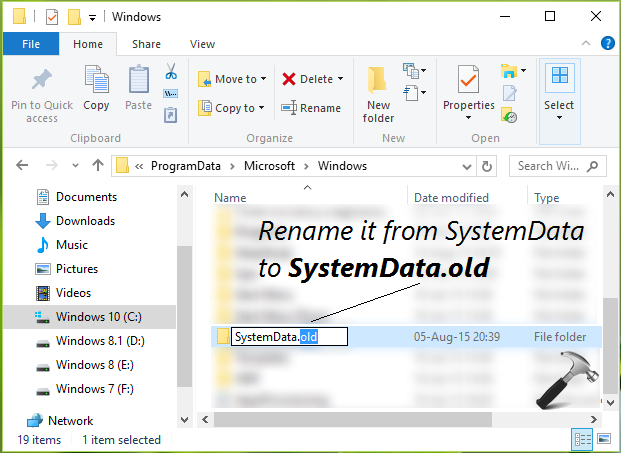 3. In the above shown window, scroll down and look for SystemData folder. We've to rename this folder to something else, so that we can fix the account picture error – as this folder is root cause. But you can't simply rename this folder, since its a system folder. So take the ownership of this folder by following steps mentioned this guide. Once you've taken ownership of the folder, you'll able to rename the folder to something else, like SystemData.old.
4. Now restart your system and try to setup account picture. You'll find that the error is no longer appearing now and you can set your DP very easily.
That's it! Go here if you get "Setting the lock screen failed. Please try again" error in Windows.