No doubt Store app is useful to get new apps of your taste in Windows 10. But sometimes the different kind of error codes it may display might prevent you from getting new apps or update existing ones. Today, in this article, we're going to talk about one such issue faced by Windows 10 users with the Store app.
Recently, while updating the apps using Store app, we came around following error message:
Something Unexpected Happened
Reporting this problem will help us understand it better. You can wait for a while and try again or restart your device. That may help.
The error code is 0x80070422, in case you need it.

If you're facing this error on your Windows machine, this article is for you. However, here, the error message do not clearly mentions what is the root case for this problem. So in order to deal with it, we need to use hit and trail method until we get fixed.
Here are the suggestions you can try to get rid of this error:
FIX : 'Something Unexpected Happened' For Store In Windows 10
FIX 1 – General Suggestions
1. Quit the Store app and re-launch it, try doing that again which was giving you error earlier, see if this helps.
2. Sign out from your Windows 10 Microsoft account and sign-in again, verify the status of the issue.
3. Run the Windows Store Apps troubleshooter and see if it founds and fixes something.
4. Make sure you're using the latest version of Windows 10 with latest updates available to you installed.
5. Verify the date and time and synchronize the time online. Follow these steps:
a. Navigate to Control Panel > Clock, Language and Region > Date and time > Set the time and date > Internet time > Change settings.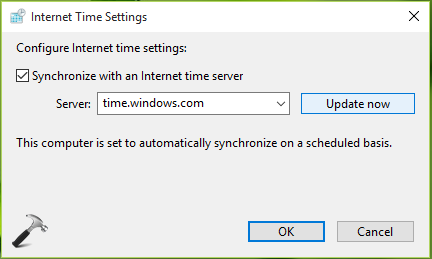 b. Now check Synchronize with an Internet time server and click Update now. Then click OK, Apply, OK and close Control Panel.
FIX 2 – Re-register Or Reset Store App
If the suggestions mentioned in FIX 1 doesn't helps you in this case, you need to reset Store app's default configuration. You can do this in two ways; either reset the Store app using Settings app or re-register Store app via Windows PowerShell.
To reset Store app, check the relevant steps here:
Steps to reset Store app in Windows 10
To re-register Store app, use steps mentioned in following guide:
Steps to re-register Store app in Windows 10
Hope something helps!