Everyone loves to try new apps plus update the existing ones. In Windows 10, users can updates and download new apps from Store. However, sometimes due to different causes, users may not able to get their desired app. In such cases, Windows 10 Store app gives Something went wrong message along with situation specific error code. One of the common error code many users have received is 0x80073CF9. Same error code also appears to Windows 8/8.1 users along with Something happened and this app couldn't be installed message. But it takes same resolution, irrespective of the operating system you're using.

In this article, we're going to share you the possible solutions to fix this issue. Since the cause for this error may vary machine to machine, so is the fix for it. The below listed suggestions are very well tested by real-time users and they've already solve issue for many. So if you keep getting error 0x80073CF9, try these things to get rid of it.
FIX : Something Went Wrong, Error 0x80073CF9 For Windows 10 Store App
FIX 1 – Common Methods
1. Run DISM commands mentioned here to remove possible corruption.
2. Run in-built Windows Store Apps troubleshooter.
3. If Store gives this error for multiple apps download/update, possibly something is wrong with Store itself. In that case, feel free to re-register Store app.
4. Try creating a new user account and if re-registering Store app doesn't helps you.
5. Sometimes, your Microsoft Account (MSA) may also cause this issue. Follow steps mentioned here to suppress this cause.
6. Trying renaming software distribution folder by stopping Windows Update. All you need to do is to execute these commands from administrative Command Prompt, one-by-one:
net stop wuauserv

rename c:\windows\SoftwareDistribution SoftwareDistribution.old

net start wuauserv
7. Reset Windows Update components manually, if you've this problem in parallel with Windows Update.
8. Create empty AUInstall folder if it doesn't exists inside C:\Windows folder. Substitute C: with system root drive on your system.
FIX 2 – Advanced Approach
1. Press

+ R and type C:\ProgramData\Microsoft\Windows\AppRepository in Run. Click OK.
*Substitute C: with your system root drive.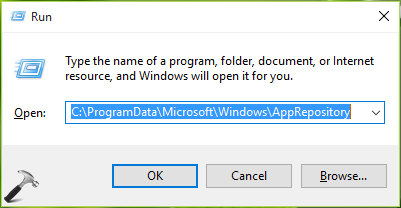 2. You'll be asked to grant a permission to open the AppRepository folder. But Windows will deny permission because you're not the owner of folder. Click on security tab link and follow steps mentioned here to take ownership of folder.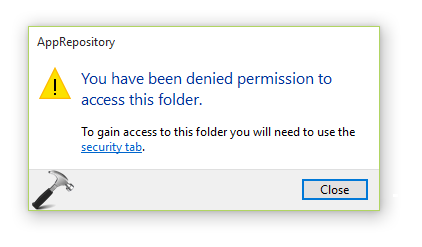 3. Now re-try to open AppRepository folder and it should open this time. Inside it, locate Packages folder and do a right click on it, select Properties.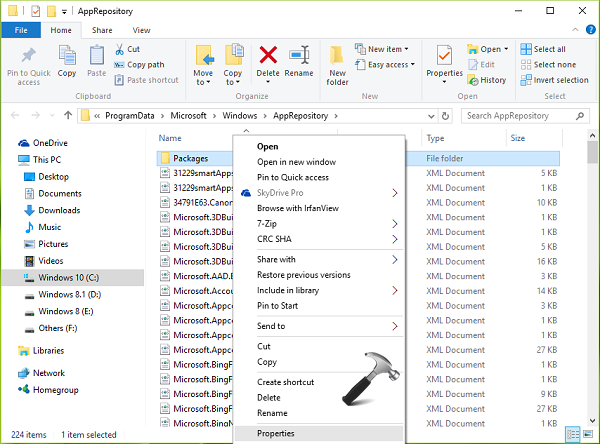 4. Moving on, in property sheet, switch to Security tab and click Advanced.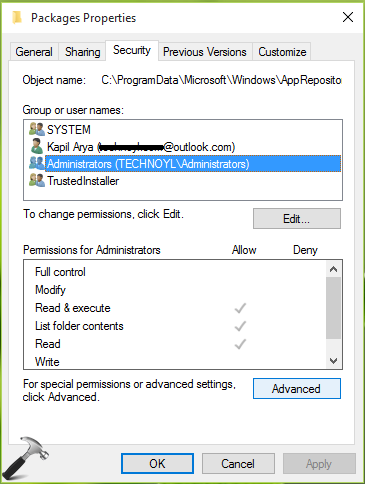 5. Then in Advanced Security Settings window, click Add.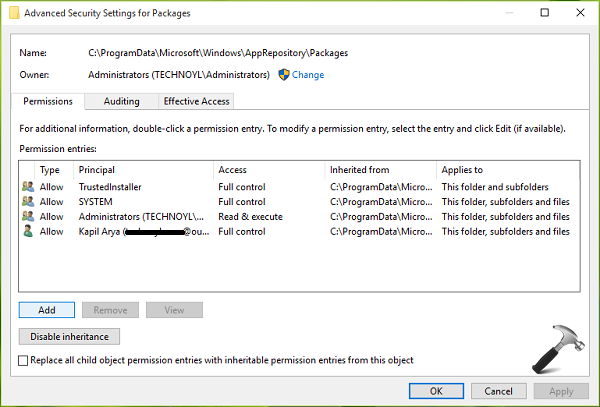 6. Next, in Permission Entry window, click Select a principal link. Then in Select User or Group, type ALL APPLICATION PACKAGES and click OK.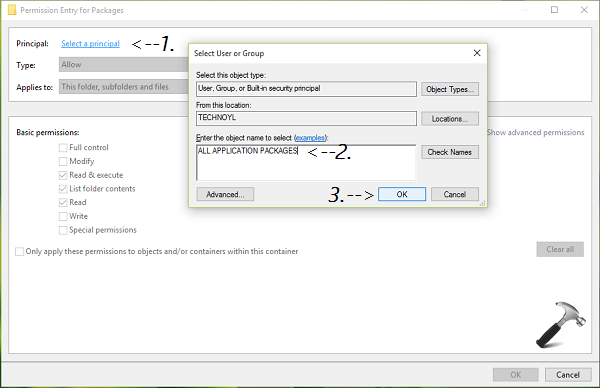 7. You'll then able to see Basic permissions, for which, check Full Control option. Click OK and in this way Apply the change on rest of windows so opened.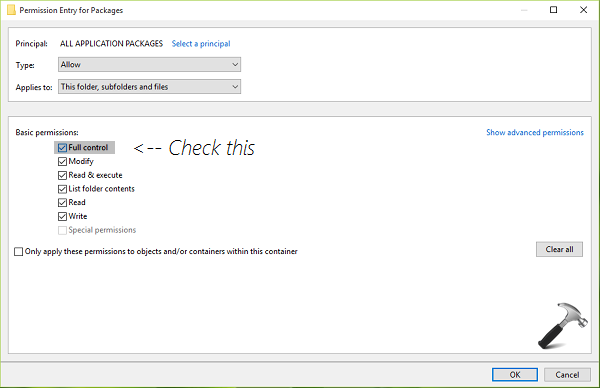 Finally reboot once, and after restarting the machine, you'll find that error no longer appears now.
Let us know if issue still persists, via your comments!