We all know that Microsoft has offered Windows 10 as last operating system edition of its series. Their aim is to let people use Windows 10 by the title of "Windows as a service". Hence, it is quite necessary that Windows Update feature on this OS must be working properly so that you can take all the benefits of upcoming updates. But sometimes you're not able to install new updates to your machine, which in turn makes your system lagging and outdated. In this article, we're discussing one such issue.
Following is the error message, when you can't complete installation of Windows Updates inside Settings app:
There were some problems installing updates, but we'll try again later. If you keep seeing this and want to search the web or contact support for information, this may help: (0x8024402f)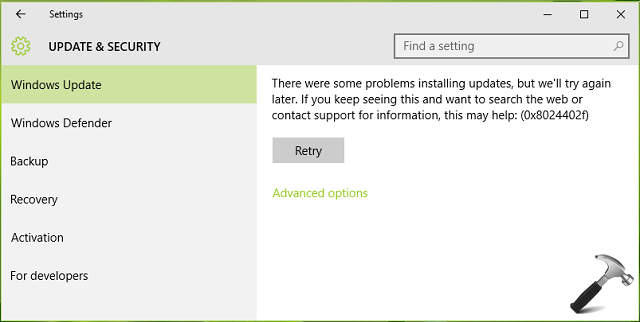 If you're also victim of this issue, there may be different root causes for it. While in some cases, Windows Updates service is main culprit, while in some other cases, Windows Update components may generate this problem. Users are also advised to run SFC /SCANNOW command in administrative Command Prompt after uninstalling third-party software on their machine (if any). Here are the fixes you can try to bypass the error:
FIX : There Were Some Problems Installing Windows Updates, But We'll Try Again Later Error In Windows 10
FIX 1 – Via Windows Update Service
1. Press  

 + R and type services.msc in the Run dialog box, hit Enter key to open Services snap-in.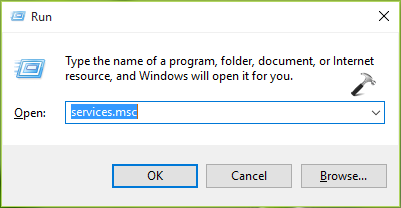 2. In the Services window, scroll down and look for Windows Update service. Double click on the service to open its property sheet.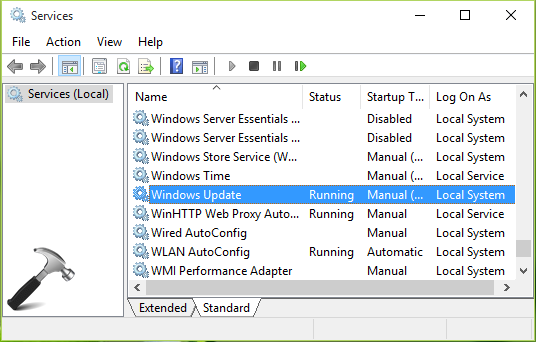 3. Next, in the property sheet, set the Startup type to Automatic (Delayed Start). Click Apply followed by OK.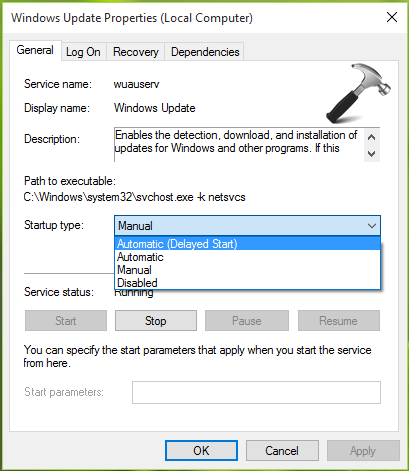 Close Services and restart your machine. Re-try to install updates now and it should work on.
FIX 2 – Run Windows Update Troubleshooter
As the root cause for this issue might be different for different machines, hence you should run Windows Update troubleshooter on your machine to automatically found and fix the issue.
Here are the steps to run the troubleshooter:
Steps to run Windows Update troubleshooter in Windows 10
FIX 3 – Reset Windows Update Components Manually
If FIX 1 and FIX 2 doesn't contributes to resolve your issue, you should go for resetting Windows Update components manually. Checkout the complete steps for that in following article:
Steps to reset Windows Update components
I hope after resetting Windows Update components, the issue will be resolved permanently.
That's it!