Whenever you search for something in your Windows, the operating system displays results for its indexed stuff. The search index may contain all your stuff like your Documents, libraries, emails, offline files etc. Basically, indexing helps Windows to display results faster.
However, since few days, whenever I search my stuff using taskbar search icon and click My Stuff, I receive following message at the top portion of this search window:
These results may be incomplete, search is still indexing your stuff.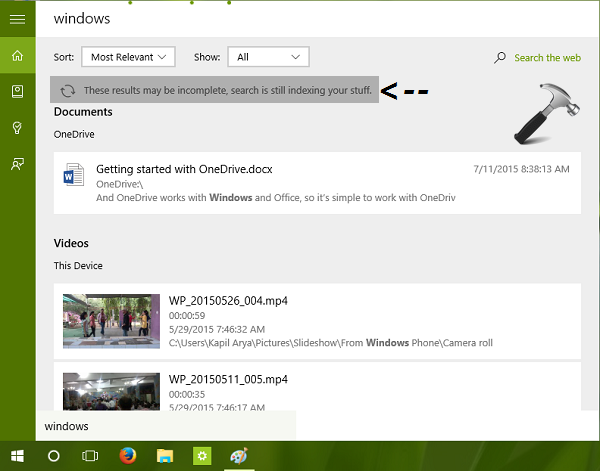 Sometimes, you may also get these messages as well, indicating similar problem:
We're getting search ready…
OR
Search results aren't quite ready yet, but we're working on getting them together. Try back in few minutes.
After seeing the first message, I searched about it and I found that I'm not alone who is having this error. After few researches, I found some suggestions to fix this issue which are as follows:
Remove the secondary languages installed (from Settings app > Time & language > Region & language).
Rebuild search index (Control Panel > Indexing Options > Advanced > Advanced Options > Troubleshooting > Rebuild).
Confirm Windows Search is set to Automatic and is Running in Services snap-in (run services.msc command to get this).
Though, even after trying these suggestions, problem still present. Then I tried additional fixes which resolved the issue and they're mentioned here:
FIX : These Results May Be Incomplete, Search Is Still Indexing Your Stuff Message In Windows 10
FIX 1 – Run Search And Indexing Troubleshooter
This problem may occur due to miscellaneous search related factors. You can run the in-built Windows Search and Indexing troubleshooter to fix this. The steps 1 to 4 mentioned in this fix should help you to run this troubleshooter:
Steps to run Search and Indexing troubleshooter in Windows 10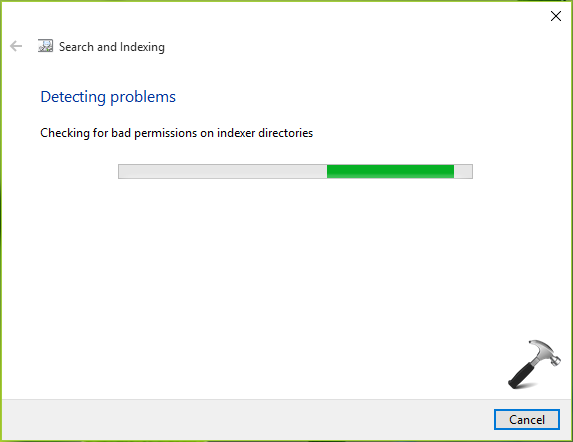 In case if troubleshooter detected any issues and fixed them, you can close troubleshooter once it completes its work and check the status of issue. If problem still persists, check FIX 2.
FIX 2 – Rebuild Search Index Using Registry Editor
Registry Disclaimer: The further steps will involve registry manipulation. Making mistakes while manipulating registry could affect your system adversely. So be careful while editing registry entries and create a System Restore point first.
1. Press

+ R and put regedit in Run dialog box to open Registry Editor (if you're not familiar with Registry Editor, then click here). Click OK.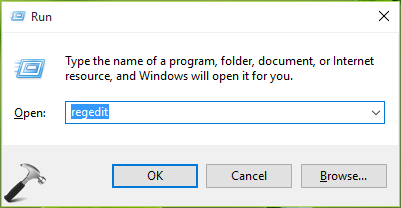 2. In the left pane of Registry Editor, navigate to following registry key:
HKEY_LOCAL_MACHINE\SOFTWARE\Microsoft\Windows\CurrentVersion\Search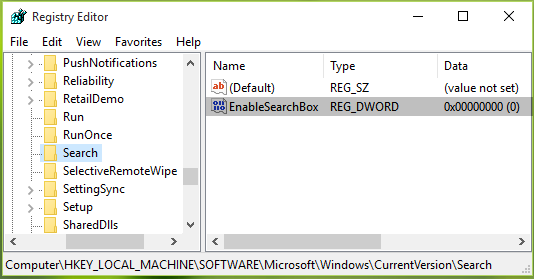 3. In the right pane corresponding Search registry key, right click and select New > DWORD Value. Name newly created registry DWORD (REG_DWORD) as EnableSearchBox. Double click on it to modify its Value data: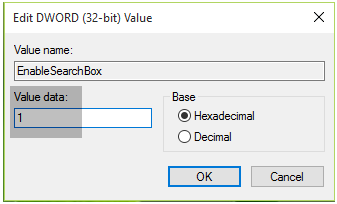 4. Set the Value data to 1 and click OK. Close Registry Editor and reboot. After restarting the machine, issue should no longer present.
Hope this helps!