Recently, we came across the issue to have no connectivity among the HomeGroup devices. Actually, the network we're using was unable to find other receivers, so that data can be shared. The ultimate reason for these kind of issues is incorrect parameters assigned for IPv6 registry entries. But before dealing with registry entries, you should checkout manual things.
Unable To Use Network Sharing Due To IPv6 Issues
There are several reasons why you can't access your HomeGroup. Here are the most probable ones:
Your computer might not be connected to the network the HomeGroup is on. Make sure the computer has network/Internet access. Try having Windows 8 troubleshoot the Internet connection for you.
Your network location might not be set to Home.
Network Discovery might be turned off.
Other computers in the HomeGroup might be turned off.
Other computer in the HomeGroup might not be sharing files.
Maybe someone changed the HomeGroup password. Try checking the HomeGroup password on other computers in the HomeGroup. If the HomeGroup password was changed, change the HomeGroup password on your computer.
Your computer might not yet be joined to a HomeGroup.
Turn off any third party firewalls (usually bundled with antivirus software) that are installed on your computer.
However, even if following workarounds didn't work, then a registry fix is the last option that may help you. Here is how:
FIX : IPv6 Capabilites Of HomeGroup Using REGEDIT
1. Press 

 + R and put regedit in Run dialog box to open Registry Editor (if you're not familiar with Registry Editor, then click here). Click OK.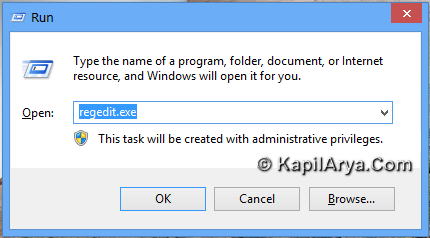 2. Navigate here:
HKEY_LOCAL_MACHINE\SYSTEM\CurrentControlSet\Services\Tcpip6\Parameters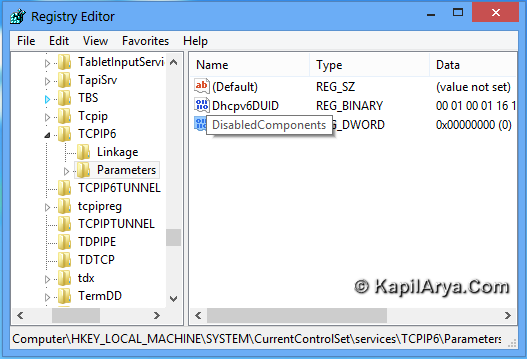 3. In the right pane, Right-click and select New – DWORD (32-bit value) and set its name as DisabledComponents. Double click on the DWORD so created and put the input for Value data equals to 0. Putting 0 (zero) will enable all IPv6 interfaces (default).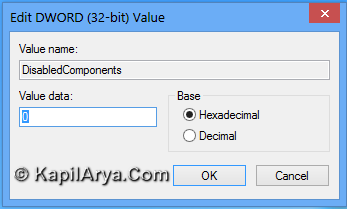 Additionally, in case you want to disable some sort of capabilities of IPv6 network, you can assign following values in Value data:
"F" (equivalent binary value is 11111111) – Disable All IPv6 interfaces

"2" (equivalent binary value is 00000001) – Disable All 6 to4 Interfaces

"4" (equivalent binary value is 00000010) – Disable all ISATAP interfaces

"8"  (equivalent binary value is 00000100) – Disable all Teredo based interfaces

"10" (equivalent binary value is 00001000) – Disable IPv6 over all non-tunnel based interfaces including LAN & PPP

"20" (equivalent binary value is 00010000) – Default prefix policy table to prefer IPv4 over IPv6
Turn on DNS Client, Function Discovery Resource Publication, SSDP Discovery, and UPnP Device Host services. For wireless on Windows 8, you need to run the network setup wizard for everything to work correctly. You should now be able to use network sharing upon HomeGroup.
Hope this helps! Go here if you're facing HomeGroup Provider service isn't running error.