Why is Cortana not available to me? I have heard this question repeatedly ever since Cortana was made available to public. Though it's not available yet to most of regions of world, but people belonging to regions having it are still asking the same question.
This is because, when they try to use Cortana, they receive following message:
I'm afraid I'm not available to help in your region.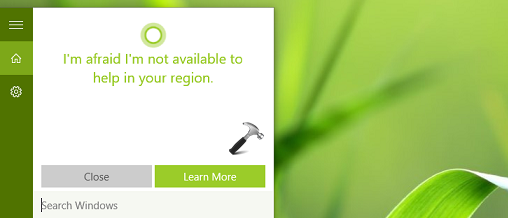 If you're a newbie in Microsoft domain, and not familiar with Cortana term, let me introduce it to you. It's basically a digital voice assistant available in Windows 10 desktop editions as well on Windows Phone 8.1 or later. On desktop, it can accept multiple inputs including your voice, ink and gestures. Cortana lets you stay updated with news and weather reports, plus the local updates of your interest. Cortana, basically is upgraded version of Windows Search, which lets you to search your content, files and folder.
Why Is Cortana Not Available To Me On Windows 10?
Cortana is available only to following 7 locale configurations mentioned below. Additionally, the table shows country or region, Windows display languages and speech languages. If either of these 3 settings is not aligned to its corresponding locale configuration, Cortana will not available to you.
| | | | |
| --- | --- | --- | --- |
| LOCALE | COUNTRY OR REGION | WINDOWS DISPLAY LANGUAGE | SPEECH LANGUAGE |
| en-US | United States | English (United States) | English (United States) |
| en-GB | United Kingdom | English (United Kingdom) | English (United Kingdom) |
| zh-CN | China | 中文(中华人民共和国) | 中文(中华人民共和国) |
| de-DE | Germany | Deutsch (Deutschland) | Deutsch (Deutschland) |
| fr-FR | France | Français (France) | Français (France) |
| it-IT | Italy | Italiano (Italia) | Italiano (Italia) |
| es-ES | Spain | Español (España) | Español (España) |
If you're on one of these locale and Cortana is not available to your Windows 10 desktop, please ensure following points:
Cortana will work after you switch to Microsoft account from your local account
Make sure your regional settings, date and time are correctly set (more instructions below)
Make sure Cortana supports the language pack(s) you've installed
To make favorable regional settings to work with Cortana, you can try these steps:
1. Navigate to Control Panel > Clock, Language and Region > Date and time > Set the time and date > Internet time > Change settings.
Now check Synchronize with an Internet time server and click Update now. Then click OK, Apply, OK and close Control Panel. Clicking sequence is traced in following screenshot: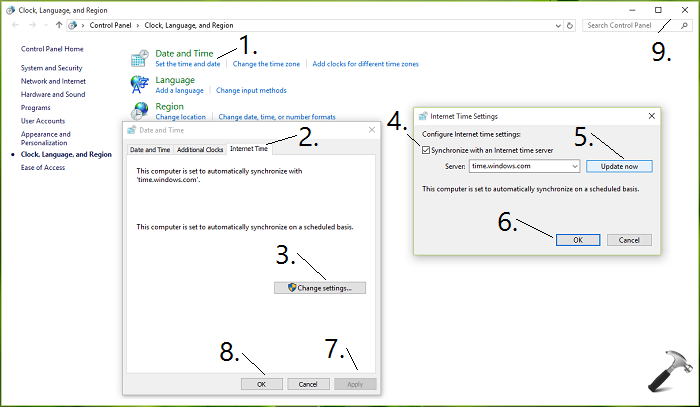 2. Open Settings app > Time and language > Region & language. Set the Country or region and Languages aligned to your locale (refer above mentioned table).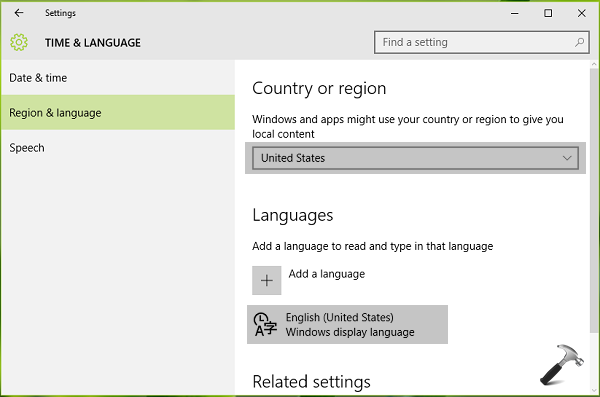 3. Under Settings app > Time and language > Speech, set the Speech language same as mentioned against your locale (refer above mentioned table).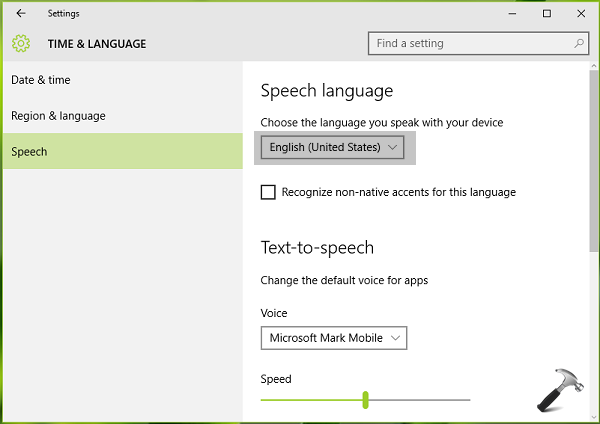 Once you're done with configuration correct settings, do a reboot and after restarting the machine, Cortana will start working, if you're on one of the 7 locale mentioned earlier.
FYI : Microsoft has released a Cumulative Update (KB3081424) for Windows 10 on August 5th, 2015, which fixes a problem Cortana was experiencing when installing language packs. Please make sure you've installed the latest Windows Updates in case if you're facing issues with Cortana.
Hope you find article helpful! Go here if you receive "Something went wrong. Try this search again" with Cortana.