We all know that the upcoming Windows is expected to be released next year and it's called Windows 10. Recently Microsoft has offered us the Technical Preview of Windows 10, the review of which you can read here. Now since this is a preview version and is only for testing purpose, bugs are obvious. After using this preview version for few days, I have found some bugs which I'm gonna share you in this article.
It is quite clear that Microsoft is still working hard to remove these irregularities so that users will receive a solid stable copy of Windows 10. If you're also using Windows 10 beta version on your system, you can share your feedback with Microsoft. To do this, just open the Start Menu, and you'll find Windows Feedback tile, click it and follow on-screen instructions to share you opinions.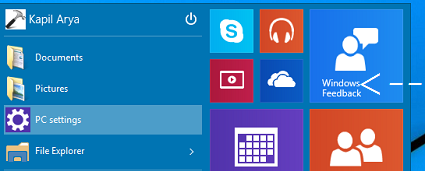 Well, following are the bugs I have noticed so far in this Technical Preview so far:
Windows 10 Technical Preview Bugs
BUG 1 : Charms Hint disappears with Start Menu enabled, appears when Start Screen selected
There is something wrong with the Charms Bar and shows abnormal behavior. By default, Windows 10 comes with Start Menu enabled, so by default Charms Hint doesn't appears when you move cursor to top-right corner. Even though in the Taskbar and Start Menu Properties, following settings are configured:
When I point to the upper-right corner, show the charms – Enabled
When I click the upper-left corner, switch between my recent apps – Unavailable/greyed out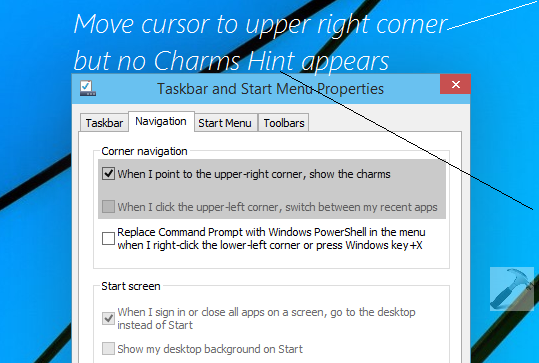 However when you switch to Start Screen, the Charms Hint appears without any hitch.
BUG 2 : Internet Explorer 11 title bar is broken, sometimes
Internet Explorer sometimes shows abrupt behavior with its title bar. You may found its title bar in Windows Vista style when it is in minimized mode with an extra wide background appearing that looks weird.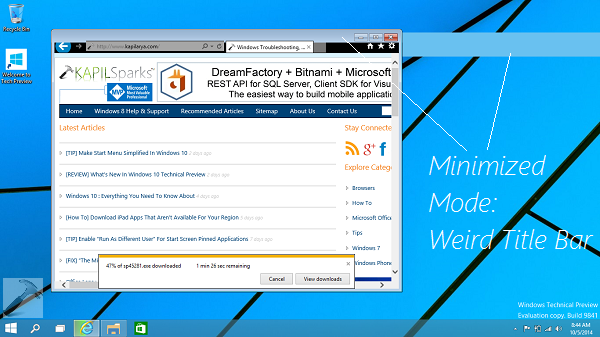 And when you maximize the window, title bar apparently disappears: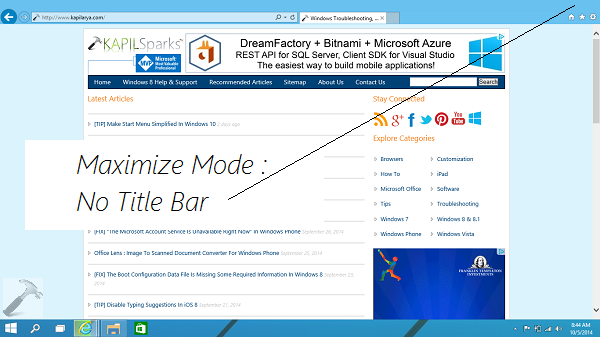 However, I faced this issue only single time, but it looks ugly!
BUG 3 : Taskbar right click context menu hides itself behind taskbar
We have addressed this issue before with Windows 8 and its continued with Windows 10 too. As you can see in the below shown screenshot, the right click context menu for taskbar goes behind the taskbar with some of its part. Due to this, you can no longer click those options. This eventually makes taskbar properties window inaccessible, which contains important settings for users.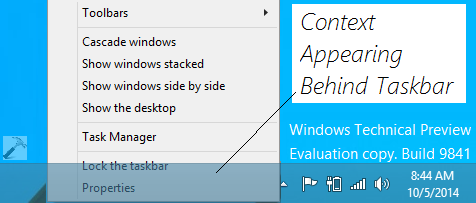 This problem is solved itself, if you make a right click again (may be in different region of taskbar), and sometimes reboot fixes this issue.
BUG 4 : Auto-hiding of Taskbar not working properly
Another bug I found regarding auto-hide feature of taskbar. When you auto-hide the taskbar, you'll found that taskbar doesn't appears normally and when you move the cursor to taskbar region, it appears automatically. But in Windows 10, this isn't true and it depends upon which region you're moving the cursor. When you move the cursor to Start and Search Buttons pinned by default, the taskbar no longer appears.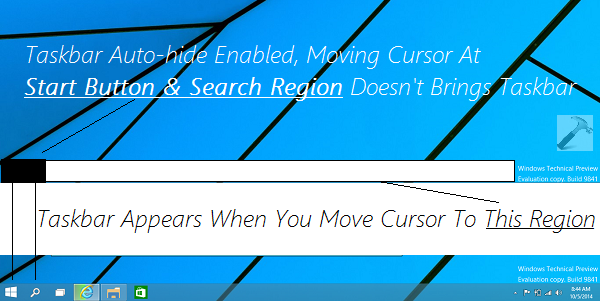 But when you move taskbar to other regions like pinned apps and notifications area section, taskbar appears.
BUG 5 : Add a Desktop buttons disappears after adding few desktops
As we've already told you in the review that Task view is the new function and it helps you to add new Desktop in order to improve multitasking. But I've found that if you add new Desktops, then Add a Desktop moves to right side of the screen.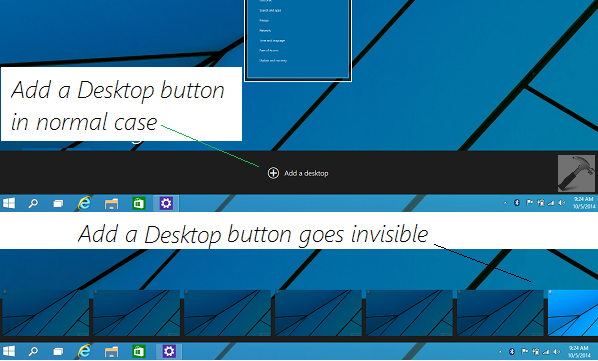 Eventually after adding certain number of Desktops, the Add a Desktop button becomes invisible, there is no scrolling either.
So this is all about the discontinuities I've observed so far. If you guys found another bugs, please feel free to share via comments!