Previously, we've seen following guide to create System Image in Windows 10:
How to create System Image in Windows 10
And this guide shows how to restore the earlier created System Image in Windows 10:
How to restore System Image in Windows 10
Today we got into an issue while creating System Image backup. In this case, while creating System Image, we got following error:
Windows Backup failed to get an exclusive lock on the EFI system partition (ESP). This may happen if another application is using files on the ESP. Please retry the operation. (0x8078011E)
Additional information:
Access is denied. (0x80070005)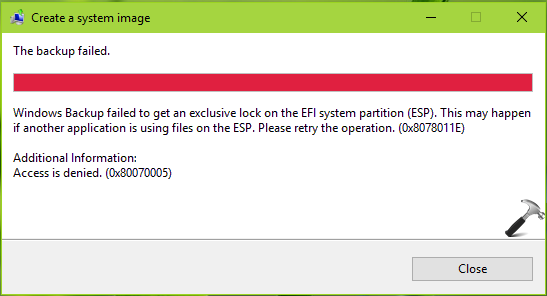 Due to above mentioned error, we're unable to create System Image backup. If you're also facing this issue, here is how you can bypass/fix this error. Try the below mentioned suggestions and see if they helps you.
FIX: 'Windows Backup Failed To Get An Exclusive Lock On The EFI System Partition' In Windows 10/8/7
FIX 1 – Perform Clean Boot
As per the error message, if you've any third-party application that may use files on ESP partition, may cause this problem. First of all uninstall third-party software present on your system. Close all the programs while you create backup image so that there are very less chances of file on ESP partition being in use.
If you still have the issue, you need to use hit and trail method with clean boot. Just run msconfig command, go to Services tab and check Hide all Microsoft services and then hit Disable all button. Reboot and check the status of issue. Do this step-wise, for each programs, one-by-one disable the corresponding services and keep checking, see if the issue resolves.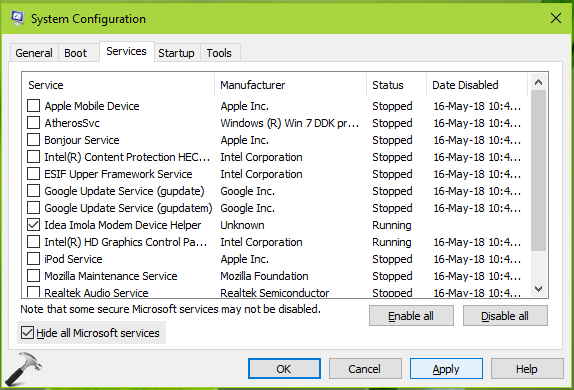 If clean boot doesn't helps, try FIX 2.
FIX 2 – Disable Your Antivirus Application
In most of cases, this issue is caused by security software present on system. So it is hardly suggested that you completely remove your third-party antivirus program and check if the issue gets resolved.
In case if you're using Windows Defender/Security as your anti-virus, you can disable it by following this guide:
Steps to disable Windows Defender/Security in Windows 10
We hope after trying above mentioned suggestions, you'll be able to create System Image without any error.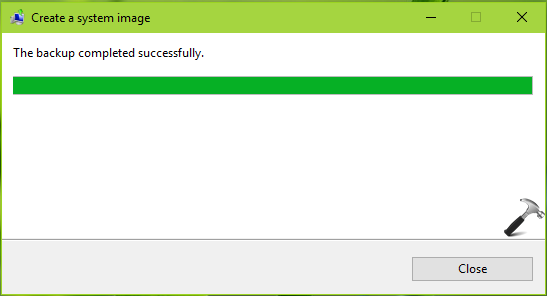 Hope something helps!