In our past, we've shared many fixes for various issues while installing Windows Update. Windows Update keeps your system updated with the fixes/patches and security updates. A good Windows user always check for the new updates and install them as soon as possible. However, error may come into play while checking for new updates available. Today, we're going to talk about the troubles faced while you look for new updates in Windows 8.1, have a look at one:
Windows could not search for new updates
There was a problem checking for updates.
Error Code 8024A008
Windows Update ran into a problem.

As you can see, it was the error code 8024A008 which entertained us, however you might get different error code with this same issue.
Read : "Windows Could Not Search For New Updates" In Windows 8 Or Later
In order to fix these kind of issues, you must try the Windows Update Troubleshooter opened after clicking the Get help with this error link provided in the error box.
Also checkout if resetting Windows Update components could help you: Reset Windows Update components manually.
If that doesn't helps, you can try following fix to resolve this issue:
FIX : 'Windows Update Ran Into A Problem. Error Code 8024A008' In Windows 10/8.1/8/7
1. First of all download the Windows Update PowerShell Module from following link:
Download Windows Update PowerShell Module
The module is in ZIP format, so you can easily extract it using decompression software like 7-zip so that you'll got the PSWindowsUpdate folder.
2. Now press

+ R and type this into the Run dialog box and press Enter key / click OK:
%WINDIR%\System32\WindowsPowerShell\v1.0\Modules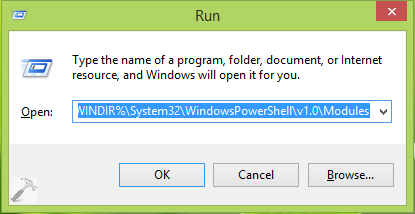 3. Now copy the extracted ZIP folder named as PSWindowsUpdate from step 1 to Modules folder so opened from step 2: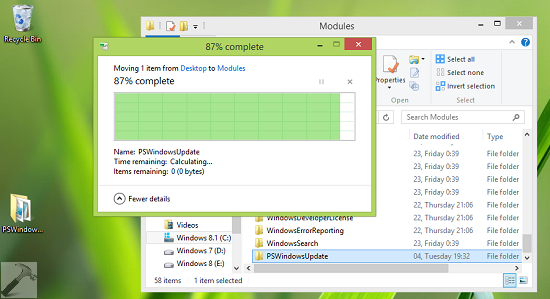 4. Moving on, Go to Start Screen, press

+ I, click Tiles and set the slider to Yes for Show administrative tools. From administrative tools so pinned to Start Screen now, open the administrative Windows PowerShell ISE and execute following commands one by one after pressing Enter key:
Set-ExecutionPolicy RemoteSigned
 Import-Module PSWindowsUpdate
Get-WUInstall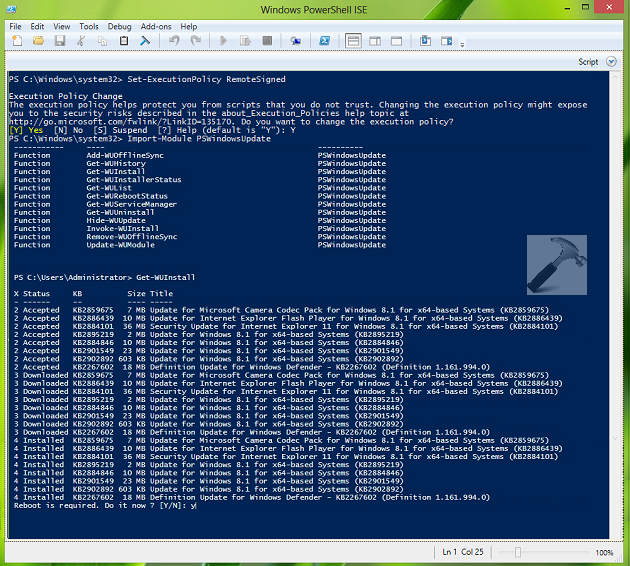 5. Get the things work done until you are asked to reboot. Once a reboot is done, you can check, download or install Windows Updates as usual.

That's it! Checkout how to prevent forced reboot after installing Windows Updates in Windows 8.