When you upgrade to Windows 10 using the ISO file, the setup checks each and every constraint which is directly or indirectly related to up-gradation. If setup founds even a single factor that is non-aligned to expected behavior, the upgrade will fail on the go.
Recently while installing Windows 10 on a Windows 8.1 running system, we faced a strange error that wasn't expected. In this case, during upgrade, setup given us following error message and the update to Windows 10 ceased due to it:
This PC can't run Windows 10
You can't install Windows on a USB flash drive from Setup.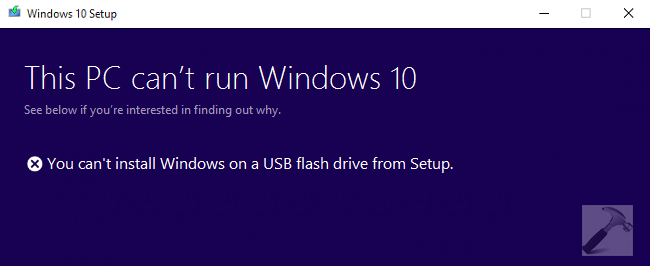 The machine on which we faced this error don't have any USB drive connected. This indicates that the error message is irrelevant to the context. Upon researching, we found that the setup checks the value of PortableOperatingSystem registry DWORD which sits under machine configuration. The incorrect value returned from that DWORD is the root cause for such an issue. You can set the correct value of that same DWORD to bypass this error, using following steps:
FIX : "You Can't Install Windows On A USB Flash Drive From Setup" For Windows 10
Registry Disclaimer: The further steps will involve registry manipulation. Making mistakes while manipulating registry could affect your system adversely. So be careful while editing registry entries and create a System Restore point first.

1. Press

+ R and put regedit in Run dialog box to open Registry Editor (if you're not familiar with Registry Editor, then click here). Click OK.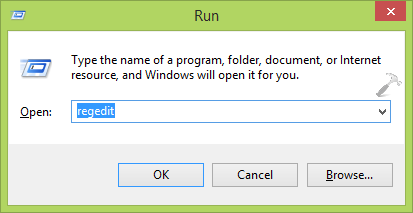 2. In the left pane of Registry Editor, navigate to following registry key:
HKEY_LOCAL_MACHINE\SYSTEM\CurrentControlSet\Control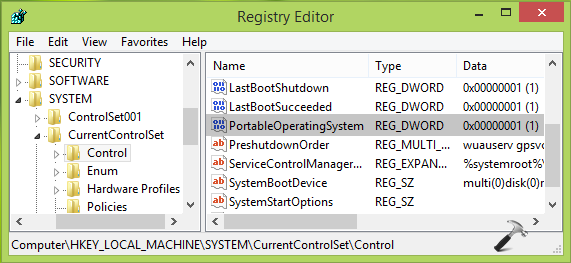 3. Moving on, in the left pane of above shown window, highlight the Control key. Come to its corresponding right pane and scroll down to look for PortableOperatingSystem named registry DWORD (REG_DWORD). If the DWORD doesn't exists at all, do a right click on blank space > New > DWORD Value. Rename the newly created DWORD to PortableOperatingSystem. Now double click on this DWORD to modify it: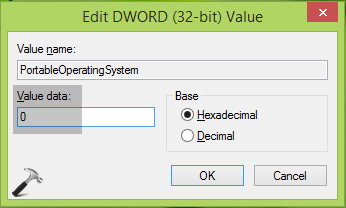 4. Finally, set the Value data in Edit DWORD box to 0 from 1. Click OK. You can now close Registry Editor and reboot the machine. After restarting your system, proceed to upgrade and this time it would work.
Hope this helps! If the issue still persists, go ahead and make a clean install of Windows 10.