It is well evident that when you browse sites on Internet, your browser saves the cookies thrown by website server. Even the site you're currently browsing; i.e. my site also save cookies to your browser. These cookies helps the server to identify your previous browsing record to my site. So cookies are basically the fraction of data that is saved by your browser, to identify you by websites, in successive sessions.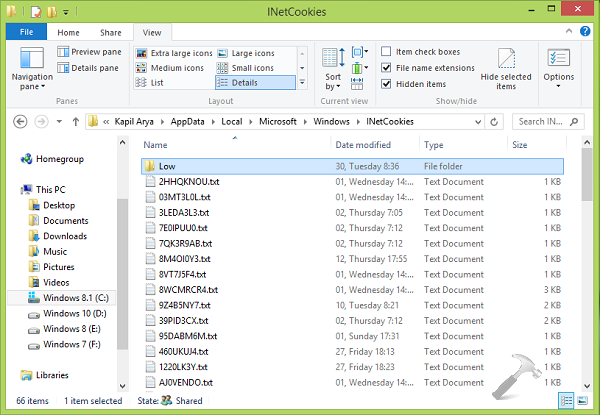 Well, in case of Internet Explorer 11, the cookies are saved to folder at following location (assuming C: as system root drive):
In Windows 8, 8.1 – C:\Users\<USER NAME>\AppData\Local\Microsoft\Windows\INetCookies
In Windows 7 – C:\Users\<USER NAME>\AppData\Roaming\Microsoft\Windows\Cookies or C:\Users\<USER NAME>\AppData\Roaming\Microsoft\Windows\Cookies
Thus it is clear that cookies composed of data files, though the data may not be understandable by you, but your browser and site servers understands it very well. If you're concerned about the hard drive space and you want to store your cookies at some other location or other drive, this article shows how you can.
Recommended : Prevent Deleting Of Download History In Internet Explorer
Basically, the Internet Explorer settings doesn't gives direct option to change cookies folder location, though it gives you option to change cache and temporary files folder location. So here is how to part to alter cookie folder location:
How To Change Cookies Folder Location For Internet Explorer 11
Registry Disclaimer: The further steps will involve registry manipulation. Making mistakes while manipulating registry could affect your system adversely. So be careful while editing registry entries and create a System Restore point first.
1. Press

+ R and put regedit in Run dialog box to open Registry Editor (if you're not familiar with Registry Editor, then click here). Click OK.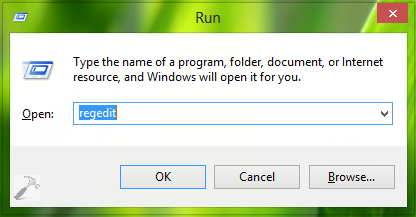 2. In the left pane of Registry Editor window, navigate here:
HKEY_CURRENT_USER\Software\Microsoft\Windows\CurrentVersion\Explorer\User Shell Folders

3. In the above shown window, highlight the User Shell Folders key in the left pane. Now in its right pane, you'll see Cookies named expandable registry string (REG_EXPAND_SZ) whose Value data is default cookies saving folder location. Double click on it to get this: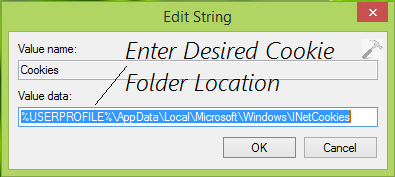 4. In the above shown box, put the Value data as the location of cookie folder you want. Click OK after inputting your choice. Close Registry Editor and reboot the machine to make changes effective.
That's it! Go here to learn how to remove stored passwords in Internet Explorer 10 or later.