UPDATE : Download Internet Explorer 11 RTM For Windows 7 & Server 2008 R2
Its the time for some good news for Windows 7 users! Microsoft has finally revealed its propriety browser Internet Explorer 10 for previous stable OS release of Windows series. Till now Release Preview of Internet Explorer was available. Along with the release of Internet Explorer 10, Microsoft has also shared its language packs with end-users.
Download Internet Explorer 10 For Windows 7
Internet Explorer 10 for Windows 7 is more about performance improvements rather than features! It adds support for over 30 new modern Web standards. Read more here about IE10 features and at MSDN.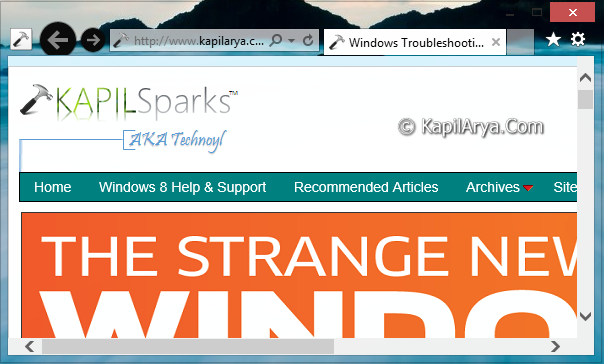 Installing the browser automatically replaces previous version of it. When you install Internet Explorer 10 for Windows 7, the installer program will try to automatically install prerequisite update components first. So if Windows Updates are in process make sure the process is complete and reboot the system if you are asked for. You can read more about the prerequisite updates for Internet Explorer 10 for Windows 7 here at KB2818833.
Microsoft will begin auto updating Windows 7 customers to IE10 in the weeks ahead, starting today with customers running the IE10 Release Preview.
Internet Explorer 10 for Windows 7 is available in English and 95 other languages. It is available for 32-bit as well as 64-bit Windows, so make sure you download the version which is meant for you.
Internet Explorer 10 : System Requirements
Processor: 1 gigahertz (GHz) or faster with support for PAE, NX, and SSE2
RAM: 1 gigabyte (GB) (32-bit) or 2 GB (64-bit)
Hard disk space: 16 GB (32-bit) or 20 GB (64-bit)
Graphics card: Microsoft DirectX 9 graphics device with WDDM driver
You can download Internet Explorer 10 for Windows 7 using following link:
Internet Explorer 10 : Language Packs
After the release of IE 10, Microsoft has released a total of 186 language packs for the new version of the browser, giving consumers the option to use Internet Explorer in their very own language.
"The Internet Explorer 10 Language Packs install language specific resource files, allowing users to view the user interface (UI) of Internet Explorer 10 in a different supported language. To use these language packs, you must install the matching OS language pack on Windows before proceeding" Microsoft explains.
You can download your required language pack using following link:
Hope you'll enjoy IE 10!