Long time back, we shared you the article to fix, if your Windows 10 not booting. Usually, it can be fixed by repairing boot records as shown in this article:
FIX: Master Boot Record Is Corrupted In Windows 10
In the above mentioned article, some users were not able to execute a specific command. When they run bootrec /fixboot command, they receive Access is denied message instead of The operation completed successfully.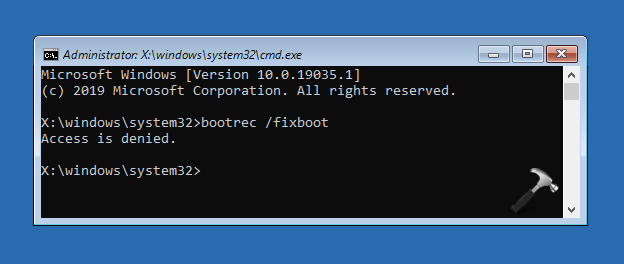 As the command didn't worked out, users were not able to repair the boot records, and thus can't fix booting problem. In case if you're also facing the similar issue, here is how you can fix it.
FIX: 'bootrec /fixboot' Access Is Denied In Windows 10
Please follow these steps carefully.
1. Boot into Advanced Recovery Options.
2. Under Advanced options screen, select Command Prompt. Select your administrator account and provide its password to open Command Prompt.
3. In Command Prompt window, type following commands one-by-one and press Enter key after each:
diskpart
This opens DiskPart utility.
list disk
List all disks on your system.
sel disk 

#
Replace # with disk number on which Windows is currently installed.
list volume
List all volumes on previously selected disk.
sel volume 

#
Replace # with volume number with EFI partition.
assign letter=K:
Assigns letter K to EFI partition volume selected previously. If drive letter K is already assigned to any of your drives, pick another drive letter.
exit
Exits DiskPart utility.
K:
Changes to K: drive.
format K: /FS:FAT32
Format the EFI partition with FAT32 file system.
bcdboot C:\windows /s K: /f UEFI
Repairs the boot loader.
4. Retry with bootrec /fixboot and it should work fine this time.
5. Once you're satisfied with results, close Command Prompt and reboot to get the booting problem resolved.
In case, if this solution doesn't worked for you, drop us a comment. We'll help you further.
Hope this helps!